Dane-Elec's my-Ditto On-the-Go Storage Solution Is Traveler's Best Friend
Allows Travelers to Upload and Access Files, Videos, Music and Photos From Anywhere in the World
(March 21, 2012)

IRVINE, CA -- (Marketwire) -- 03/21/12 -- Dane-Elec, a global leader in consumer electronics, offers travelers a way to securely access, share and store all of their files, videos and photos from any computer, iPhone, iPad, Android phone, Android tablet or Windows smartphone with its award-winning my-Ditto Network Solution (NAS).
"Whether it's a vacation or a business trip, my-Ditto offers a unique solution that allows travelers to upload, store and share photos and videos to their personal my-Ditto from anywhere in the world with an Internet connection," said Sarit Lamerovich, vice president of marketing at Dane-Elec. "my-Ditto keeps users photos and videos secure so they don't have to worry about carrying multiple memory cards or losing them if their camera or computer is lost. For business travelers, my-Ditto takes the office with them wherever they go so their documents and files are always accessible."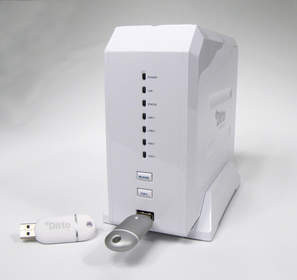 Consumers are increasingly using their smartphones and tablets to capture photos and videos when they travel to share with friends and family. With the free my-Ditto Android, iOS and Windows apps, travelers can conveniently connect to my-Ditto not only from any computer, but also from their mobile device anywhere in the world.
With my-Ditto's automatic backup feature and direct transfer protocol technology, travelers can rest assured that their files are securely stored. Storage capacity ranges from 500 gigabytes (GB) to 4 terabytes (TB) and with the ability to connect an additional external drive of up to 2 TB, there is plenty of room to grow.
Each my-Ditto device can be configured to allow access by up to 30 people, enabling users to easily share their vacation photos, videos and other files with family and loved ones. my-Ditto gives the user complete personal control of the physical hard drive with the choice to create either private or shared folders, and whether to restrict or enable access to individual files.
my-Ditto users can safely share digital content over the Internet in less than a minute (depending on network speed) with its "Three Easy Steps" set-up process. From streaming music to exchanging favorite songs, viewing memorable photos, and saving important documents, my-Ditto is the best solution to safely storing digital assets.
Pricing and Availability
my-Ditto from Dane-Elec is available from national and online retailers including Best Buy, Wal-Mart, Staples, PC Mall, Mac Mall, Amazon, Buy.com, B&G and J&R with an MSRP of $154.99 for the 500GB my-Ditto, up to an MSRP of $379.99 for the 4TB my-Ditto.
To learn more about my-Ditto or to purchase a device, visit the my-Ditto website at http://www.my-Ditto.com.
About Dane-Elec
Dane-Elec is one of the largest manufacturers of flash memory products, storage and consumer electronic devices in the world. For over 25 years Dane-Elec has provided consistent quality and industry-leading products to customers across the globe. Leading brands including Duracell, Marvel Comics, Blizzard, Hello Kitty, Harry Potter, Disney and many more around the world, rely on Dane-Elec's expertise to deliver high quality, customized storage solutions. Acknowledged as one of the authorities in quality memory products, Dane-Elec Memory designs, assembles and distributes its products through its own network in the U.S, Europe (France, United-Kingdom, Germany, Belgium, Scandinavia, Holland, Italy and Spain), Asia, South America and Israel.
For more information on Dane-Elec please visit: www.Dane-Elec.com.
All products/services and trademarks mentioned in this release are the properties of their respective companies.
© 2012 Dane-Elec. All rights reserved.
Image Available: http://www2.marketwire.com/mw/frame_mw?attachid=1924820

Add to Digg Bookmark with del.icio.us Add to Newsvine
Copyright @ Marketwire
Page: 1
Related Keywords:
Dane-Elec, Camera,Family,Internet,Memory Cards,Family,Communications,Digital Audio,Movies & Music,Web,Smart Phone,iPods,iphone,iPad,Family,Music,Sales & Marketing,Storage,Internet,Misc,Broadcast,Consumer Electronics,Streaming,Digital,Internet/Web,Camera/Film,Prosumer/Consumer,Business,Internet,Phone OS,Flash,Consumer Electronics,Phone,Handheld PC/PDA,Marketing,PDA/Smartphone,Graphics/Design,Consumer Technology,Internet Media,Consumer Electronics,Storage,Mac,OS9,OSX,Germany,Israel,Italy,Scandinavia,Holland,Marketwire, ,Apple Computer,Music,Consumer Electronics,Internet Technology,Business,Internet,Family,Other,
---