Survey: Professionals Seek Job Changes in the Year Ahead
2012: The Year of Career Mobility?
(January 25, 2012)

PALO ALTO, CA -- (Marketwire) -- 01/25/12 -- While fear of job survival may have been the overriding workplace emotion in 2010 and 2011, survey results released today indicate that is no longer the case.
2012 may be the year of career mobility.
In the Branding Pays Pulse Survey* results released today (www.brandingpays.com/blog), employee confidence and risk-readiness appeared to underlay many of the responses. The survey was created to be a snapshot of attitudes on mobility and social networking among professionals. Conclusions? The landscape may be in for a dramatic change.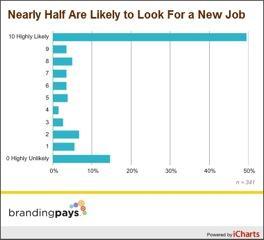 Nearly 50 percent of the respondents said they are "highly likely" to look for a new job in 2012.
But what are the chances they will succeed?
According to Karen Kang, a recognized Silicon Valley brand strategist, it may depend on their ability to brand themselves.
"Today," said Kang, CEO and Founder of BrandingPays LLC, "building a personal brand and communicating your unique value is not an option, it's a career requirement."
Kang, whose client experience includes AT&T, HP, Genentech and NCR, says that "With most of us shifting jobs or careers about seven times during our lives, branding ourselves for new opportunities becomes a skill that, if mastered, can pay huge dividends."
As for branding in social media, "the once defined line between the personal arena and professional arena is quickly being erased," said Pam Smith, the BrandingPays survey co-author and a marketing strategist. "When Facebook becomes a common way for employers to vet prospective new hires -- one's 360-degree branding becomes more important than ever."
Personal and professional networks are continuing to merge. Nearly 50 percent of the BrandingPays Pulse Survey respondents said that they use Facebook either 'Often' or 'All of the Time,' in terms of sites that help them define or communicate their own personal brands. That was ten points more than those who claimed to use LinkedIn, a professional networking site, with similar frequency.
As we emerge from the economic doldrums, employee confidence appears to be rising -- at least when it comes to looking for a new job. In 2012, the year of career mobility, personal branding may well decide who is on the way up.
*BrandingPays Pulse Survey:
Sample size: 342, mainly US professionals
Conducted online between January 8, 2012, and January 16, 2012
Analysis and web-ready charts are posted at http://www.BrandingPays.com/blog
Please follow Karen Kang at Twitter @karenkang
About BrandingPays LLC
BrandingPays LLC is a corporate and personal branding company that helps companies, departments and professionals to stand apart from the crowd. In 1994, Silicon Valley brand strategist Karen Kang founded Karen Kang Consulting (now BrandingPays LLC), which has served more than 100 high technology, health care, travel and other clients from the Fortune 500 to startups in the US, Asia and Europe. A former Regis McKenna Inc. partner, she is a sought-after speaker and has conducted corporate and personal branding seminars at top business schools such as London Business School, Wharton (University of Pennsylvania) and Haas (UC Berkeley), and for many professional organizations.
Image Available: http://www2.marketwire.com/mw/frame_mw?attachid=1865109

Contact:
Karen Kang
BrandingPays LLC
Palo Alto, California
Phone: (650) 328-1121
Cell: (650) 283-9225
Email Contact
www.brandingpays.com


Copyright @ Marketwire
Page: 1
Related Keywords:
survey, jobs, career, personal branding, karen kang, brandingpays, chart, Sales & Marketing,Health Care,Networking,Marketwire, Inc., ,HP,Medical,Business,Social Networking,Other,
---