XIO Named to UBM Channel's CRN Data Center 100
Hyper ISE Recognized for Increasing Data Center Efficiency, Performance and ROI While Reducing Energy Consumption, Waste and Cost
(January 24, 2012)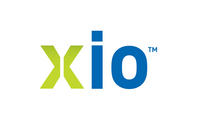 COLORADO SPRINGS, CO -- (Marketwire) -- 01/24/12 -- XIO, the leader in performance driven storage, announced it has been named to CRN's 2012 Data Center 100 list. This annual list recognizes technology vendors for powering, supporting and protecting today's data center services in an environmentally and economically friendly manner, while boosting efficiency and productivity. The honor caps a year in which XIO was awarded several channel distinctions by CRN, including the prestigious 5-Star Partner rating.
XIO's revolutionary HDD/SSD platform Hyper ISE is built upon the field-proven ISE architecture. Designed to drive database, VDI, Business Intelligence, cloud computing and server virtualization initiatives, Hyper ISE integrates seamlessly into existing storage environments and -- unlike legacy storage -- requires less infrastructure to meet enterprise high-performance demands. With 100% usable capacity, efficiencies in power and cooling, small physical footprint and unmatched reliability, Hyper ISE offers significant reductions in capital and operational expenses.
"We are excited about our inclusion in CRN's 2012 Data Center 100 List. It underscores our ongoing efforts to equip partners with valuable solutions that meet the demands of today's enterprise data centers," said Steve Sicola, CTO at XIO. "Combining SSD performance with HDD capacity, Hyper ISE has proven to be a winning solution, providing unmatched storage performance and capacity ratios for its price, a space-saving design and the lowest power consumption in the industry."
Fusing SSD and HDD into a single pool of capacity, Hyper ISE provides up to 200,000 IOPS in a 3U, 14.4 TB storage system. Addressing customer and partner demands for massively scalable, high-performance storage environments, XIO's X-Volume software enables users to create and manage pools of virtualized storage across multiple Hyper ISE systems to achieve millions of IOPS. Offering the industry's best balance of price, performance and capacity, Hyper ISE is backed by an unmatched 5-year, no-cost standard hardware warranty.
"The 2012 Data Center 100 list recognizes vendors that, over the course of 2011, have shown a dedication to the innovation and advancement of today's data center services," said Kelley Damore, Vice President and Editorial Director for UBM Channel. "The recent upsurge in cloud computing has solution providers searching for new ways to ensure their clients maintain connectivity while mitigating costs and security threats. We congratulate each vendor on the 2012 Data Center 100 list for providing a significant growth opportunity for solution providers to build their business by offering cutting-edge products and services to customers."
Selected by CRN's editorial staff, the 2012 Data Center 100 list is featured in the January issue of CRN Magazine and will be featured online at www.crn.com.
About XIO
XIO is the leader in performance driven storage with the best price/performance/capacity ratios of any solution in the market. XIO pioneered the only True SHD storage system that amalgamates SSD and HDD in a single pool of storage, resulting in extreme performance that changes the economics of the data center. XIO empowers enterprises to drive database performance to its limits, accelerate business analytics, enable VDI deployments and greatly improve their server virtualization consolidation ratios. XIO's ISE architecture is field-proven with thousands of deployments worldwide. Enterprise-class reliability and ease of use are in our DNA and core aspects of all our storage systems. For more information, visit www.xiostorage.com or email us at [email protected].
About UBM Channel: (www.ubmchannel.com)
UBM Channel is the premier provider of IT channel-focused events, media, research, consulting, and sales and marketing services. With over 30 years of experience and engagement, UBM Channel has the unmatched channel expertise to execute integrated solutions for technology executives managing partner recruitment, enablement and go-to-market strategy in order to accelerate technology sales. UBM Channel is a UBM company. To learn more about UBM Channel, visit us at www.ubmchannel.com.
UBM plc (www.ubm.com)
UBM plc is a leading global business media company. We inform markets and bring the world's buyers and sellers together at events, online, in print and provide them with the information they need to do business successfully. We focus on serving professional commercial communities, from doctors to game developers, from journalists to jewelry traders, from farmers to pharmacists around the world. Our 6,000 staff in more than 30 countries is organized into specialist teams that serve these communities, helping them to do business and their markets to work effectively and efficiently. For more information, go to www.ubm.com
Add to Digg Bookmark with del.icio.us Add to Newsvine
Media Contact
Jennifer Krupski
CHEN PR, for XIO
781-672-3148
Email Contact


Copyright @ Marketwire
Page: 1
Related Keywords:
XIO, Hyper ISE, storage, SSD, data center, ISE, CRN, VDI, business intelligence, database, cloud, Game Development,Business Media,Marketing/Distribution,Marketing,Business,Marketing,Standards/Initiatives,email,Marketwire, ,Marketing Services,Biology,Genetics,Business,Email,
---