FreeHand Music is Giving Away a New Apple iPad 2 for an Original Love Song Inspired by Glee Characters and Fans
(March 01, 2011)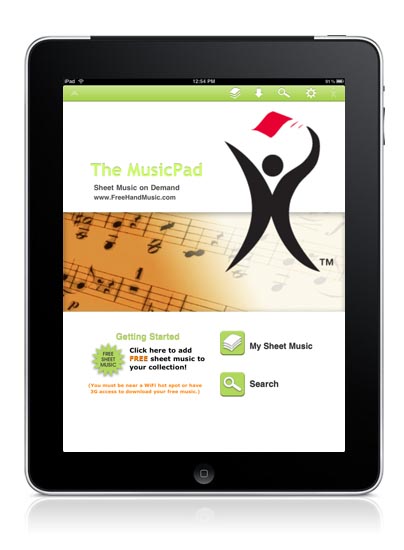 Los Altos, CA (PRWEB) March 1, 2011
As part of their continuing efforts to provide creative opportunities for music lovers and musicians, FreeHand Music announced today that they are launching a love song lyric writing contest inspired by the characters Rachel and Finn from the popular Fox television show, Glee. The company will select five finalists who will each receive a $100.00 USD gift card to FreeHandMusic.com. One grand prize winner will receive a new Apple iPad 2, complete with the companys FreeHand Music Viewer iPad app.
Kim Lorz, president and CEO of FreeHand Music reports, We are excited to be able to offer not only the sheet music from Glee the day before each episode hits the TV airwaves, but we also want to do something fun to help people create music on their own. What better way than with a new free iPad?
FreeHand Musics team of musicians, producers, arrangers, and sheet music experts will judge the submissions. They will evaluate each entry based on originality, creativity, content and technical merit. Participants may submit any style of music for consideration. FreeHand Music must receive all submissions no later than 11:59pm EST, May 6, 2011.
FreeHand Music will accept original lyrics for contest submissions only via the FreeHand Music website. For complete rules and contest information, please visit the Help Rachel and Finn Stay Together contest page.
About FreeHand Music:
FreeHand Music is the global leader in licensed digital sheet music publishing whose technologies continue to make music accessible through their online distribution system and award-winning MusicPad® products. FreeHand Music offers sheet music for performers, educators, students, composers, arrangers, and musical directors from a vast array of categories. FreeHand Musics paperless alternative is a more environmentally friendly delivery system that saves time, resources, and costs for anyone using sheet music. From Classical and Jazz to Pop and Soul, from Country and Blues to Childrens classics, the companys digital sheet music website offers hundreds of thousands of titles for nearly instant, legal digital downloading. FreeHand music products are available via its more than 1,200 dealers worldwide and from the companys website.
For more information, contact:
Daniel M. East/The ECI Group for
FreeHandMusic®
Tel: 650.949.5000
E-Mail: deast(at)freehandmusic(dot)com
Web: http://www.freehandmusic.com/
Facebook: http://www.facebook.com/pages/FreeHandMusiccom/79914774891
Twitter: http://www.twitter.com/FreeHandMusic/
TAGS: music, sheet music, education, publish, publishing, notation, software, free, glee, gleeonfox, glee on fox, fox, gleek, TV, television, Rachel, Finn, musical, technology, internet, download, ipad, apple, tech, gadgets, technology, contest, score, musical, tabs, tablature, tunes, song, songs, instrument, sing, studio, concert, orchestra, band, musician, student, teacher, producer, arranger, performer, Apple, Mac, Macintosh, Windows, iPad, laptop, notebook, computer, computing, singer, songwriter, recording, studio, conductor, hit, hits, hit song
Note to Editors: Additional information is available from FreeHand Musics website, http://www.freehandmusic.com. Glee is a trademark of Twentieth Century Fox Television. FreeHand Music is not affiliated with Twentieth Century Fox Television. iPad is a trademark of Apple, Inc.. FreeHand Music is not affiliated with Apple, Inc. MusicPad Pro®, MusicPad Pro® Plus, MusicPad Maestro are trademarks of FreeHand Music Incorporated. Other company and product names may be trademarks of their respective owners.
###
Read the full story at http://www.prweb.com/releases/sheetmusic/glee/prweb5102924.htm.
Page: 1
Related Keywords:
music industry,music theatre,plastic art,rock and roll music,popular music,jazz music,folk music,country music,classical music,music,entertainment award,entertainment (general),arts (general),arts, culture and entertainment,cross country,cross country,music industry,music theatre,plastic art,rock and roll music,popular music,jazz music,folk music,country music,classical music,music,entertainment award,entertainment (general),
---