trueRSVP Launches New Online Event Planning Service at DEMO Fall Conference
Company Enters Online RSVP Market With Suite of New Services to Increase Accuracy and Efficiency of Event Planning
(September 12, 2011)

SANTA CLARA, CA -- (Marketwire) -- 09/13/11 -- trueRSVP launched its new, highly-efficient online event planning service, trueRSVP.com, at the DEMO Fall 2011 Conference in Santa Clara, California. The website uses proprietary algorithms to increase the accuracy of RSVPs, making the process of event planning easier.
Online planning sites will be used to schedule more than 60 million events this year, yet there is currently no service that can reliably account for who will actually attend these events. To address this frustrating, costly, and inefficient process, trueRSVP is launching the first online planning service that is 'flake-proof,' providing event planners with the most precise attendance forecast to date. No more stressing about embarrassingly empty venues or running out of food at the last minute.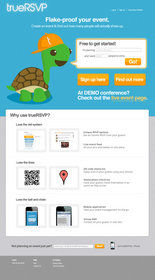 The traditional yes/no/maybe guest response model is highly inaccurate. Guests rarely consider their response carefully, nor do they return to a planning site when they change their mind. As such, event planners have learned that they cannot rely on the resulting attendance counts. In contrast, trueRSVP rewards event guests for responding promptly to invites and showing up when they respond "yes" with such benefits as priority registration to future events.
"Current online systems do not have the ability to accurately predict attendance, and that is a critical personal, business and economic concern," said Anna Sergeeva, co-founder, trueRSVP. "No matter the size or type of event, trueRSVP helps event planners find ways to work smarter, not harder. With trueRSVP, the host can focus on making their event great, instead of trying to guess how many people will show up."
Based in part on attendee reputation, trueRSVP has developed a proprietary algorithm that evaluates numerous factors about each event and its attendees to produce the most accurate possible attendance count. From the event location to the attendees' track record, trueRSVP analyzes all of the relevant data about an event and its attendees. In addition, trueRSVP plans to simplify the registration process with a soon-to-be-released mobile application for the iPhone and Android devices.
"The trueRSVP service is intuitive and easy to use. Having learned from a decade of 'Web 1.0' event sites, the trueRSVP team has built the first host-centric solution that improves the experience of planning events, for 10 people or 200," said Scott Sangster, CEO of OrganicStartup LLC, which incubated trueRSVP.
About DEMO
Produced by the IDG Enterprise events group, the worldwide DEMO conferences focus on emerging technologies and new products innovations, which are hand selected from across the spectrum of the technology marketplace. The DEMO conferences have earned their reputation for consistently identifying cutting-edge technologies and helping entrepreneurs secure venture funding and establish critical business. For more information on the DEMO conferences, visit http://www.demo.com/.
About trueRSVP
trueRSVP is a new online event planning service that gives hosts a more accurate attendance count. The company's proprietary RSVP algorithm analyzes event data and attendee reliability to calculate how many people will actually show up. trueRSVP also offers easy event check-in through the use of its mobile applications. More details, screenshots and logos are available in the electronic press kit at http://www.trueRSVP.com/media.
trueRSVP, located in Los Angeles, CA, was founded in 2011 by three students at the University of Southern California, Anna Sergeeva, Fei Xiao, and Grady Laksmono, and incubated by OrganicStartup LLC. For more information, visit www.trueRSVP.com.
Image Available: http://www2.marketwire.com/mw/frame_mw?attachid=1728071

Add to Digg Bookmark with del.icio.us Add to Newsvine
Media Contact:
Diane Murphy
(Email Contact)
202.361.9681


Copyright @ Marketwire
Page: 1
Related Keywords:
event, RSVP, accurate attendance, event planning, invites, guests, virtual invitations, Marketwire,Apple Computer,Computer Science,Business,
---