mDialog Releases HTML5 Player Libraries and Increased Security for Streaming Video and Dynamic Ad Insertion on iPad and iPhone
mDialog HTML5 Player Libraries Provides iPad and iPhone Web Developers With a Robust Toolset Including New AES-128 Security Measures and Advanced Performance Analytics
(June 09, 2010)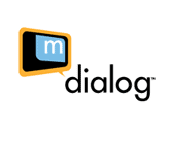 SAN FRANCISCO, CA -- (Marketwire) -- 06/09/10 -- WWDC -- mDialog, a leading mobile HTML5 video delivery and real-time, in-stream ad management platform, today announced the release of its new HTML5 Player libraries along with advanced security and performance analytics reporting features. The new player will allow iPhone and iPad web developers to easily deploy HTML5 Video with adaptive streaming, while also providing a robust monetization toolset, including dynamic in-stream ad insertions and interactive ad overlays.
mDialog is the first-to-market with a complete solution for HTML5 video and ad management on the iPad and iPhone. The launch of the company's HTML Player libraries and the new suite of security measures and analytics reporting further establishes mDialog as the leading video as a service solution for HTML5 video, featuring a robust set of the software services broadcasters and video publishers require to distribute and monetize video on the iPad and iPhone.
The mDialog Platform is the first video as a service solution to offer advanced AES-128 security protocols for adaptive streaming on the iPad and iPhone. Broadcasters and video publishers now have further confidence that their valuable content will be protected from malicious use. By encrypting each small section of a clip generated in the mDialog video ingest service -- a necessary step in prepping a video for adaptive bit rate streaming -- each video segment that's streamed will be protected by the AES-128 standard, the same encryption used by the United States government for protecting top-secret information. Any request for a video is made securely over SSL and all requests are signed and protected with token authentication. Each token, after authenticated, becomes obsolete, allowing users access to a video at a given time, but still allowing the broadcaster or publisher to maintain access control in the future.
"The mDialog HTML5 Player and new security and performance analytics reporting features not only open up our video and ad-insertion tools to web developers, but make our company one of the most secure and analytic-heavy services for HTML5 on the market," commented Greg Philpott, President and Founder, mDialog.
The business intelligence provided by mDialog's new performance analytics system allows both video content publishers and marketers to make better decisions in placing effective advertising on the iPad and iPhone. This rich analytic reporting will provide an immediate understanding of the number of individual viewers. Additionally, viewers are placed in geographical context using a heat map, providing a powerful visual aide to detail the global reach of video content. While archived reporting histories provide valuable information on long-term viewing trends, the new system also monitors current audience activity in real-time, along with engagement, sharing and viral viewing data as well. mDialog's new suite of performance analytics for Live and VOD content provides broadcasters and content publishers with more information to understand the viewing patterns of the mobile device audience and integrates seamlessly with third party systems. Data is organized to show both unique and return views, with all numbers filtered for accuracy, removing false impressions from erroneous sources, such as robots and automated scripts.
For more information, contact Jessica Hasson at [email protected].
About mDialog
The mDialog platform is a real-time, Video as a Service (VaaS) solution that provides video publishers and advertisers a suite of services to manage and stream high-res video, with in-stream advertising, to mobile devices. The mDialog's Dynamic Ad-insertion service lets advertisers increase the relevancy of their brand messaging with real-time, mobile-specific ad-targeting through geo-location, audience interactivity and mobile device level ad frequency capping.
Add to Digg Bookmark with del.icio.us Add to Newsvine
For more information, contact
Jessica Hasson
Email Contact


Copyright @ Marketwire
Page: 1
Related Keywords:
Mobile, iPad, Mobile Video, HTML5, Adaptive Streaming, Advertising, Mobile Ads, iPhone, Wireless Ads, Broadcast,Graphics Designer,Management,Streaming,Management,Business,Graphics/Design,Streaming/Webcast,Interactive/Multimedia,Mobile Video,USA,Marketwire,Apple Computer,Internet Technology,Business,
---