mDialog Announces the General Availability of Its In-Stream Ad Management Services for Live Streaming to iOS Devices
Strategic Partnership With Inlet Technologies Provides Seamless In-Stream Ad Insertion With Inlet's Market Leading Spinnaker(TM) Streaming Appliance
(November 03, 2010)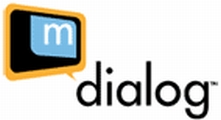 LOS ANGELES, CA -- (Marketwire) -- 11/03/10 -- Streaming Media West -- mDialog (http://www.mdialog.com) continues to lead the mobile video ad platform market with the release of new features for its real-time, in-stream ad insertion solution for live streaming video to iOS devices. Through mDialog's technology partnership with Inlet Technologies (http://www.inlethd.com/), broadcasters and live streaming publishers using Inlet's Spinnaker streaming appliance now have an effective way to monetize their live streaming video on iOS devices.
The mDialog Video Ad Platform and Inlet's Spinnaker are tightly integrated and represent the most advanced workflow for live video monetization on the iPhone and iPad. To aid with ad trafficking and workflow, mDialog has developed an extremely intuitive live ad operations solution for live events such as sports, music concerts and news. Using a console (either on location or from master control), an operator can stage ad pods (combinations of video ads and in-stream apps) they plan to insert into a live stream by simply dropping them into a staging area.
Once staged, an ad pod can be inserted into the live stream with the click of a button, which triggers the Spinnaker encoder to insert a time-accurate ad marker in the live video stream.
Moreover, mDialog's recently announced in-stream application delivery services are also available for live streaming on the iPad. Brands and media agencies can now directly engage the iPad video audience by inserting rich media in-stream applications over the streaming content or in-sync with video ad pods -- all while in full screen mode.
"In live event scenarios, it's critical that an operator can work quickly and effectively. Our live ad operations console provides the operator with a powerful set of services to do their job, and our integration with Inlet makes encoding live video and marking ad opportunities effortless," said Greg Philpott, President of mDialog.
Publishers and Advertisers can keep track of ad pod and live stream performance using the mDialog Platform's real-time analytic tools, all of which can be augmented by mDialog's ability to integrate with analytics services like Nielson and ComScore.
"We are helping content providers build strong businesses for video delivered over IP," said John Bishop Inlet co-founder and SVP of Products and Business Development. "With mDialog, we are able to offer an end-to-end solution to extend live video monetization capabilities to the iPad and iPhone."
Attendees at Streaming Media West in Los Angeles can stop by Inlet's Booth 31 to see a live demo of this solution.
About Spinnaker
Spinnaker™ is Inlet Technologies' family of award-winning real-time streaming appliances. Spinnaker's robust, reliable platform can stream in multiple formats to any device, including iPhone®, iPad™, feature phones and smart phones. Spinnaker offers full support for adaptive bitrate streaming, including Microsoft IIS Smooth Streaming and Adobe HTTP Dynamic Streaming. Spinnaker is also able to detect SCTE 35 cue messages and translate critical ad metadata into ad markers appropriate for the Flash and Silverlight platforms, enabling ad partner Auditude to serve ads within live content.
About mDialog
The mDialog platform is a real-time, Video as a Service (VaaS) solution that provides video publishers and advertisers a suite of in-stream ad services for mobile devices. The mDialog Dynamic Ad-insertion service lets advertisers increase the relevancy of their brand messaging with real-time, mobile-specific ad-targeting through geo-location, audience interactivity and device level ad frequency capping.
Copyright @ Marketwire
Page: 1
Related Keywords:
HTML5, iPad, Apple, iPhone, Mobile Video Platform, Mobile TV, Mobile Video Advertising, Technology, Broadcast,Management,Streaming,Business,Flash,Graphics/Design,Internet Media,Mobile Video,Marketwire,Apple Computer,Appliances,Management Services,Television,Music,Business,Sports,Streaming Media,Family,
---