mDialog Announces First-Ever In-Stream Apps, Allowing Brands to Engage With iPad Video Audience
mDialog Reinvents the Traditional 30 Second Commercial Break by Syncing In-Stream Rich Media Companion Apps -- Bringing Mid-Roll Video Ads to Life
(November 03, 2010)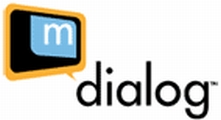 LOS ANGELES, CA -- (Marketwire) -- 11/03/10 -- Streaming Media West -- mDialog (www.mdialog.com) announces the launch of the first HTML5 based in-stream rich media apps ad overlay platform for streaming video on iPad. Video publishers can now generate additional revenue from their video content on the iPad with in-stream rich media companion apps.
The vast majority of video on the iPad is watched in full screen mode, which means the companion ad revenue opportunity is lost. mDialog solves this by bringing the rich media companion ad experience into the video stream and synchronizes its delivery with an associated mid-roll video ad. This new type of ad unit provides a level of targeted brand engagement never before experienced by the iPad video audience.
mDialog's video-as-a-service mobile ad platform makes it extremely easy for video publishers to create, target, stream and measure interactive video ad pods using either an advertiser's new or existing rich media creative. Publishers simply add the mDialog Player SDK for iPad (available for both HTML5 and Objective C) to their site or App and they're done. mDialog's in-stream app technology makes extensive use of HTML5's interactive capabilities, which means a video publisher or broadcaster's rich media companion video ad pods will work identically in both apps or websites on the iPad.
"We worked very closely with leading broadcasters and media agencies to bring the in-stream brand experience to life. The tablet video user is rapidly becoming the most sought after audience by broadcasters and brands alike. This in-stream ad experience allows the audience to lean forward and interact with the traditional mid-roll video ad," said Greg Philpott, CEO of mDialog.
mDialog is also excited to announce extensive support for third party ad platform and analytics service integration. The mDialog Platform can now utilize the VAST 2.0 specification to traffic ads to the iPad and iPhone from VAST compliant ad platforms such as Doubleclick's DART for Publishers© and Freewheel©. This allows broadcasters to broaden the reach of their otherwise flash based video ads -- all achieved without any additional work from the Publisher's Ad Ops team. "Our seamless integration with third party ad platforms via our VAST based service is extremely compelling to publishers wanting to reach iOS devices without changing their ad ops workflow," commented Greg Philpott.
In addition to mDialog's built in, real-time reporting features, publishers and advertisers can now also track the performance of both their in-stream video ads and in-stream rich media apps via mDialog's integration with third party reporting services such as Nielsen© and ComScore©.
About mDialog
The mDialog platform is a real-time, Video as a Service (VaaS) solution that provides video publishers and advertisers a suite of in-stream ad services for mobile devices. The mDialog Dynamic Ad-insertion service lets advertisers increase the relevancy of their brand messaging with real-time, mobile-specific ad-targeting through geo-location, audience interactivity and device aware ad frequency capping.
Copyright @ Marketwire
Page: 1
Related Keywords:
HTML5, iPad, Apple, iPhone, Mobile Video Platform, Mobile TV, Mobile Video Advertising, Technology, Broadcast,Streaming,Flash,Graphics/Design,Internet Media,Interactive/Multimedia,Mobile Video,Marketwire,Apple Computer,Television,
---