kgb 542542 Text Answer Service and Its New Web Site, kgb Answers, Serve up Answers to All Your Wimbledon Questions
(June 30, 2010)

NEW YORK, NY -- (Marketwire) -- 06/30/10 -- Wimbledon is in full swing -- and kgb's 542542 text answer service and its new Web site, kgb Answers, www.kgbanswers.com will ace all tennis-related questions.
kgb's 542542 text answer service is powered by thousands of Special Agents who provide quick, accurate answers to any question at a cost of 99 cents per question.
In addition to texting kgb for all your Wimbledon questions, fans can also visit kgb Answers at www.kgbanswers.com and check out the service's most-asked tennis queries for free. Site visitors can search kgb's vast database of millions of questions and answers at no charge. kgb is featuring Wimbledon-related content to showcase the extensive variety of questions users ask the service -- and the top-quality answers that kgb Agents research in response.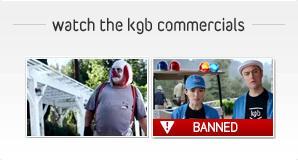 Among the most popular Wimbledon questions asked of kgb to date are (answers provided through the links below):
Who is most likely to win Wimbledon's men's singles?
http://www.kgbanswers.com/whos-most-likely-to-win-wimbledons-mens-singles/5009461
Who are the top seeds for Wimbledon's 2010 men's doubles?
http://www.kgbanswers.com/who-are-the-top-seeds-for-wimbledon-2010-mens-doubles/5009462
Was there ever a Wimbledon final between two left-handed players?
http://www.kgbanswers.com/was-there-ever-a-wimbledon-final-between-two-lefthanded-players/5009449
Who has won the most women's singles championships?
http://www.kgbanswers.com/who-has-won-the-most-womens-singles-championships/5009445
Who are the top seeds for Wimbledon 2010 women's doubles?
http://www.kgbanswers.com/who-are-the-top-seeds-for-wimbledon-2010-womens-doubles/5009456
What's an affordable Wimbledon vacation package?
http://www.kgbanswers.com/whats-an-affordable-wimbledon-vacation-package/5009443
Who was the oldest gentlemen's singles player?
http://www.kgbanswers.com/who-was-the-oldest-gentlemens-singles-player/5009451
Is there a Wimbledon app for the iPhone?
http://www.kgbanswers.com/is-there-a-wimbledon-app-for-the-iphone/5009444
About kgb
Kgb is a privately held, New York-based company and the world's largest independent provider of directory assistance and enhanced information services. During its fifteen year history, kgb has built some of the most successful and recognizable retail brands in the telecommunications and enhanced information services sector. kgb's European retail brands include The Number 118 118 in the United Kingdom and Le Numero 118 218 in France, both of which have the largest market share in their respective markets. kgb is also the largest and fastest-growing independent wholesale directory assistance service provider in the U.S.
kgb has pioneered the provision of a broad range of wholesale and retail information services beyond traditional directory assistance services, including call completion, movie listings, train schedules, price comparisons and "Ask Us Anything" service across multiple platforms, including mobile and landline phones, SMS and the Internet. In 2009 kgb launched its flagship text answer service, 542542 (kgbkgb) following the success of kgb's similar "Ask Us Anything" premium text answer service in the United Kingdom. Early in 2010, kgb extended the brand to the Web with the launch of kgbAnswers.com, a site where users can search the vast kgb database of questions and answers, or ask their own question directly to a kgb Agent. Also in 2010, kgb harnessed its vast database of hyperlocal directory assistance information to launch www.kgbdeals.com, a group buying service that brings its members a daily discount on a city's most popular products and services; kgbdeals.com initially launched in New York, Paris, and London. Last year kgb served more than a hundred million consumers globally and answered nearly a billion questions.
Wimbledon is a registered trademark of the All England Lawn Tennis Club and the use of that name in this press release, in addition to the use of the names of various tournament players, does not imply endorsement of kgb or of the service described in this press release.
Image Available: http://www2.marketwire.com/mw/frame_mw?attachid=1297272
Youtube Video Available: http://www2.marketwire.com/mw/frame_mw?attachid=1297313

Add to Digg Bookmark with del.icio.us Add to Newsvine
Contact:
Amy Wolfcale
kgb
Email Contact
212-909-8289
917-280-5913

Adam Miller
MWW Group
Email Contact
201-964-2390


Copyright @ Marketwire
Page: 1
Related Keywords:
kgb, text answer service, kgbkgb, 542542, kgb Answers, Wimbledon questions, directory assistance, England,France,USA,Marketwire,Apple Computer,Discount,Internet Technology,Internet,Tennis,england,
---