iambic Releases New Version of Agendus for Palm OS, Its Award-Winning Productivity Enhancement Software Optimized for Palm Centro and Treo Smartphones
Version 13 Accelerates Activity-Related Information Flow, Making It Indispensable for Those Trying to Do More Today, Tomorrow and Beyond
(December 23, 2008)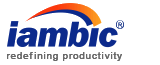 SAN JOSE, CA -- (Marketwire) -- 12/23/08 -- iambic, Inc., a leading provider of innovative productivity-enhancing software, today announced the release of Agendus for Palm OS, Version 13, an update of its award-winning, fully integrated, personal information manager (PIM) that has been highly optimized to accelerate the flow of activity-related information. Version 13 has many new features and refinements for helping those who carry a Palm Centro or Treo get more done before, during and after the activities that drive their day. There are over a dozen major new features in this revision, including time savers like "Smart Agenda" for creating Tasks, Meetings and Memos on-the-fly, and fully editable Meeting and Task templates.
"The economy may be slowing down, but people aren't. In fact, they seem even more dependent on their mobile device to help guide them through their day. Plus, they don't have the time or patience to be fiddling around trying to find the relevant information needed to get things done," said Adriano Chiaretta, COO of iambic, Inc. "The truly exciting thing about our newest version of Agendus is that it includes many features and refinements that not only improve the usefulness of our award-winning, personal information manager, but also speed up how someone interacts with it. Thanks to input from our dedicated user base, Agendus Version 13 has evolved into a must-have companion for those striving to accomplish more while on the go."
Agendus Version 13 includes refinements for improving how the information in your Centro or Treo can be harnessed to help guide you through your day. It now provides a better snapshot of what's going on that includes Contacts, Meetings, Tasks so you get a more complete picture. Plus, it includes the ability to add icons to Contacts. This user-requested feature makes it easy to recognize, at a glance, the person on the Contacts list associated with a particular activity. Other highlights include:
-- Speed up with Smart Agenda: From the Today View, users can input information to create Tasks, Meetings and Memos on-the-fly, and Agendus will automatically pre-populate key fields. Not only is this a time saver, but it is also quite convenient since the area of Agendus where most people spend their time is the Today View. -- Speed up with Editable Templates: The ability to use Templates for Meetings and Tasks is a popular feature and one that saves time because it allows users to save the information inputted and repurpose it for future use. In Version 13, the Template feature has been expanded to enable edits to be made to saved Meeting and Task templates. -- Speed up with Filtering Options: In Version 13 there are many more filtering options to help users quickly find important information stored in Agendus. For example, a flag icon appearing next to a Contact would designate an upcoming event with that person. -- Speed up with Quick Text: This feature enables quick entry of common words and phrases (i.e. Lunch with, Meeting with, Pickup, etc.). -- Accelerate Power Searches: New auto-fill feature anticipates the word or phrase being typed after just a few letters have been entered.
More information about the new features and refinements included in Version 13 of Agendus is available at http://www.iambic.com/agenduspro/palmos/.
Pricing and Availability:
Agendus for Palm OS Version 13 can be downloaded and purchased from www.iambic.com as low as $29.95. Anyone with Version 11 or 12 of Agendus can obtain Version 13 for the special price of $9.95. For information on upgrade options, visit http://www.iambic.com/agenduspro/palmos/?cnt=upgradepolicy.
About iambic, Inc:
iambic is a leading provider of innovative productivity-enhancing software applications for smartphones, PDAs and Windows-based personal computers that can be easily tailored to meet the unique needs of each individual, are intuitive to use, and introduce fun ways to get more done. The company has developed an extensive portfolio of products for popular platforms (Android, BlackBerry, iPhone, Palm OS, and Windows Mobile), that includes Agendus, the award-winning, fully integrated, personal information manager (PIM), Agendus Mail, Health & Diet Manager, Propel, SnappySeeker (formerly GoogHelper), Tipper, TripTracker, Vehicle Manager, and YourCall. Founded in 1994, iambic is headquartered in San Jose, California. More information is available at www.iambic.com.
Add to Digg Bookmark with del.icio.us Add to Newsvine
For more information contact:
Annie Gladue
iambic, Inc.
415-302-8990
Email Contact


Copyright @ Marketwire
Page: 1
Related Keywords:
iambic, Inc., Digital Media Software,Communications,Digital Audio,Smart Phone,PDA,iPods,iphone,Marketwire,Apple Computer,Personal Computers,Other,
---