iBooster Cellular Amplifier for the iPhone and Curve Is Now Shipping From Wilson Electronics
An Accessory for Keeping Smartphones Smart
(August 10, 2009)

ST. GEORGE, UT -- (Marketwire) -- 08/10/09 -- Smartphones are pretty dumb when they can't get a signal. This in mind, Wilson Electronics recently launched a new product line called the Cradle Booster. For millions of users, getting a strong connection for voice, email, Internet, and 3rd-party apps like navigation and maps, which don't operate at all without "bars," is evolving from luxury to necessity. A growing trend in the use of phones that are essentially microcomputers could be attributed to the growth of 3G networks and cloud computing. Without a signal however, these phones are rendered relatively useless. Wilson has sturdy cellular boosters for any weak signal problem, but the Cradle Booster was created as something unique for car drivers.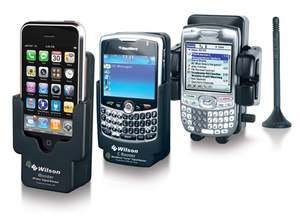 Wilson's Cradle Boosters amplify weak cellular signals and practically end dropped calls and data dead zones. They also provide a place to recharge the phone in its own cradle making it a perfect hands-free accessory for Bluetooth and "on-the-phone" GPS users.
The iBooster for the iPhone(TM) is a plug and play kit that is just in time for the iPhone 3GS and also fits earlier iPhones. Wilson's C-Booster model has been developed for the BlackBerry® Curve(TM). "The Cradle Booster line is the first cell signal booster on the market that is specifically designed for these phones," said Joe Banos, COO, Wilson Electronics, Inc. He also said that the need for these amplifiers was confirmed at the Consumer Electronics Show 2009 where the company debuted the iBooster for iPhone users. Many who saw them wanted to buy the iBooster right off the display table he said.
For everybody else, this fall brings the U-Booster, a universal Cradle Booster. So the Palm® Pre(TM), G1(TM), Treo(TM), or any other phone will have great signal coverage, too.
But what affects a cellular signal in the first place? Distance from a cell tower and obstructions such as hills, trees and buildings all interfere with signal quality. Likewise, the stucco and concrete used for walls and in buildings impede cell phone reception. The actual phone design can also cause connectivity issues as cellular phones have "built-in" antennas, which are often covered-up by the user's hand when they talk on the phone.
About Wilson Electronics
Wilson Electronics, Inc. leads the industry as a 40-year-old pioneer in cellular amplifiers, antennas, and related components that have made significant improvements in cellular communications for both mobile and in-building situations. In tests, Wilson's designs outperform their competition in real-world applications. All Wilson products are engineered, assembled and tested in the company's headquarters in St. George, Utah. Wilson amplifiers fully comply with FCC regulations for cellular devices and are FCC and Industry Canada type accepted. For more information, visit www.wilsonelectronics.com.
Image Available: http://www2.marketwire.com/mw/frame_mw?attachid=1037711
Embedded Video Available: http://www2.marketwire.com/mw/release_html_b1?release_id=525384

Add to Digg Bookmark with del.icio.us Add to Newsvine
For press only contact:

Gina Baldazzi
435.986.6213
Email Contact
http://www.wilsonelectronics.com/iBooster/


Copyright @ Marketwire
Page: 1
Related Keywords:
cellular antennas, cell signal problem, cell phone amplifiers, cellular booster, weak cell signal, Displays, Internet, Communications, Digital Audio, Web, Cell phone, Smart Phone, Accessories, iPods, iphone, Applications, Video, EMail, Canada, Marketwire, Inc., CES Attendees, Apple Computer, Shipping, Consumer Electronics, Communications Technology, Internet Technology, Internet, Email, Other,
---