eGain to Ring the NASDAQ Closing Bell on January 11, 2012
(January 04, 2012)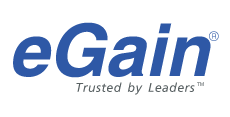 SUNNYVALE, CA -- (Marketwire) -- 01/04/12 -- eGain Communications (NASDAQ: EGAN), a leading provider of cloud and on-premise customer interaction hub software, today announced that Ashutosh Roy, Chairman and CEO, and Eric Smit, CFO, will ring the Closing Bell at the NASDAQ MarketSite on Wednesday, January 11th, 2012.
"It is an honor to ring the Closing Bell on behalf of our many dedicated employees and partners around the world," said Mr. Roy. "Our new listing on NASDAQ was a critical step in our strategic plan to build shareholder value and strengthen our overall shareholder base."
A live webcast of the NASDAQ Closing Bell will be available on the Investor Relations section of eGain's website at www.egain.com.
About eGain Communications Corporation
eGain (EGAN) is the leading provider of customer service and contact center software for cloud and on-premise deployment. Trusted by prominent enterprise worldwide, eGain has been helping businesses achieve and sustain customer service excellence for more than a decade.
To find out more about eGain, visit www.eGain.com or call the company's offices: 800-821-4358 (United States), 1753-464646 (UK and Continental Europe).
Cautionary Note Regarding Forward-Looking Statements
All statements in this release that involve eGain's forecasts (including the above stated guidance), beliefs, projections, expectations, including but not limited to our financial performance and guidance, the anticipated growth of our business, market trends, plans to invest in our business and expectations regarding the market acceptance of our products, are forward-looking statements within the meaning of the safe harbor provisions of the Private Securities Litigation Reform Act of 1995. These forward-looking statements, which are based on information available to eGain at the time of this release, are not guarantees of future results; rather, they are subject to risks and uncertainties that may cause actual results to differ materially from those set forth in this release. These risks include, but are not limited to, the uncertainty of demand for eGain products, including our guidance regarding bookings and revenue; our expectations related to our operations; our ability to invest resources to improve our products and continue to innovate; our partnerships; our future markets; and other risks detailed from time to time in eGain's filings with the Securities and Exchange Commission, including eGain's annual report on Form 10-K filed on September 27, 2011, and eGain's quarterly reports on Form 10-Q. eGain assumes no obligation to update these forward-looking statements.
Note: eGain is a registered trademark, and the other eGain product and service names appearing in this release are trademarks or service marks, of eGain Communications Corp. All other company names and products are trademarks or registered trademarks of their respective companies.
Company Contact:
Eric Smit
CFO
408-636-4455
iregain@eGain.com

Investor Relations Contact:
Charles Messman or Todd Kehrli
MKR Group, Inc
323-468-2300
egan@mkr-group.com


Copyright @ Marketwire
Page: 1
Related Keywords:
eGain Communications Corp., Marketwire, , Financial, Business, Other,
---