eGain Appoints Charles Jepson to Newly Created Position of Senior VP of Worldwide Sales
(July 19, 2012)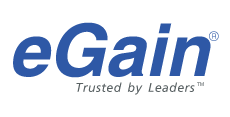 SUNNYVALE, CA -- (Marketwire) -- 07/19/12 -- eGain Communications (NASDAQ: EGAN), a leading provider of cloud and on-premise customer interaction hub software, today announced the appointment of Charles Jepson to the newly created position of senior vice president, worldwide sales, effective immediately.
Mr. Jepson has served as senior vice president, business development at eGain since June 2010, and is a seasoned sales executive with more than 20 years of experience. In this new position, he will oversee and coordinate eGain's North America sales, EMEA sales and Business Development teams, reporting directly to CEO Ashu Roy.
"We have made substantial progress expanding the size and scale of our sales and marketing team, and we are excited to promote Charles to this new position to streamline our sales process and further leverage the capabilities of our sales and business development teams worldwide," said Mr. Roy. "Our customers are global in nature, and Charles has been instrumental in the development of key partnerships including SAP, IBM and Cisco. We look forward to his sales management leadership as we focus on generating continued positive momentum in the marketplace for our industry leading solutions."
Prior to rejoining eGain in 2010, Mr. Jepson served as president and CEO of numerous companies including Extended Systems, Interlink Computer Sciences, and Inference Corporation. Following eGain's acquisition of Inference in June 2000, he served as vice president of North American sales for eGain until July 2001. Mr. Jepson holds an M.B.A from the University of California, Berkeley and a Bachelor of Arts from San Jose State University.
About eGain Communications Corporation
eGain (NASDAQ: EGAN) is a leading provider of cloud and on-site customer interaction hub software. For over a decade, eGain solutions have helped improve customer experience, optimize service process and grow sales -- across the web, social, and phone channels. Hundreds of the world's largest companies rely on eGain to transform their fragmented sales engagement and customer service operations into unified Customer Interaction Hubs (CIHs).
Headquartered in Sunnyvale, California, eGain has operating presence in North America, EMEA, and APAC. To find out more about eGain, visit www.eGain.com or call the company's offices: +1-800-821-4358 (US), +44-(0)-1753-464646 (EMEA), or +91-(0)-20-6608-9200 (APAC).
Note: eGain, the eGain logo, and all other eGain product names and slogans are trademarks or registered trademarks of eGain Communications Corp. in the United States and/or other countries. All other company names and products mentioned in this release may be trademarks or registered trademarks of the respective companies.
Cautionary Note Regarding Forward-looking Statements
All statements in this release that involve eGain's forecasts (including the above stated guidance), beliefs, projections, expectations, including but not limited to our financial performance and guidance, the anticipated growth of our business, market trends, plans to invest in our business and expectations regarding the market acceptance of our products, are forward-looking statements within the meaning of the safe harbor provisions of the Private Securities Litigation Reform Act of 1995. These forward-looking statements, which are based on information available to eGain at the time of this release, are not guarantees of future results; rather, they are subject to risks and uncertainties that may cause actual results to differ materially from those set forth in this release. These risks include, but are not limited to, the uncertainty of demand for eGain products, including our guidance regarding bookings and revenue; our expectations related to our operations; our ability to invest resources to improve our products and continue to innovate; our partnerships; our future markets; and other risks detailed from time to time in eGain's filings with the Securities and Exchange Commission, including eGain's annual report on Form 10-K filed on September 27, 2011, and eGain's quarterly reports on Form 10-Q. eGain assumes no obligation to update these forward-looking statements.
Company contact:
Eric Smit
CFO
eGain Communications
408-636-4500
[email protected]

Investor Relations contact:
Charles Messman or Todd Kehrli
MKR Group, Inc.
323-468-2300
[email protected]


Copyright @ Marketwire
Page: 1
Related Keywords:
eGain Communications Corp., USA,Marketwire,Financial,Internet Technology,Business,Other,
---