eDiets.com Debuts Exclusive, Freshly Prepared Meal Delivery Program on ShopNBC
Chef Favorites Program to Premiere September 29
(November 01, 2010)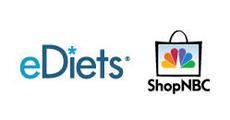 FORT LAUDERDALE, FL -- (Marketwire) -- 09/21/10 -- eDiets.com, Inc. (NASDAQ: DIET), a leading provider of convenient at-home weight-loss solutions, today announced it will debut on ShopNBC (NASDAQ: VVTV), the premium lifestyle brand in multi-media retailing, on September 29, 2010 with an exclusive, freshly prepared meal delivery program designed to help its loyal viewers lose weight in an easier and tastier manner.
As part of the eDiets launch on ShopNBC, the weekly program will feature the best of eDiets, with all meals being chef favorites. Additionally, the co-branded support site pulls together the simplest fitness plans and provides unlimited access to community and expert support to help members reach their goals. Customers who sign up for ShopNBC's AutoDelivery program will not only ensure they continue with their weight-loss program, but will also lock in a low price for all future shipments.
"We are thrilled to be strategically aligning ourselves with ShopNBC," says Kim Evenson, SVP Marketing for eDiets. "Our chefs have designed an exclusive meal delivery program for the network that provides balanced, nutritional meals at breakfast, lunch, dinner, plus a snack -- each of which can be prepared in two minutes or less!"
Donna Tarantino-Loyle, ShopNBC's Director of Beauty, Health and Fitness adds, "We are pleased to be providing an easy, hassle-free, yet sensible weight-loss plan to our loyal ShopNBC viewers. eDiets' award-winning meal delivery program is unique from other programs on the market because they feature freshly prepared food -- not powdered, freeze-dried or shelf-stable. Plus, our viewers will have access to registered dietitians, online fitness tools and the eDiets online community forum as part of the program because we all know how important additional support is throughout our weight-loss journeys."
The show series, eDiets Meal Plan, will feature guest expert, eDiets Testimonial Manager and eDiets success story, Cathy Cox, M.S. Having received her degree in Public Health in 2003, Cathy lost 115 pounds with the aid of eDiets, which helped her further define and focus both her personal and professional interests in health and fitness. In 2006, she became certified as a personal trainer and began training to compete in half marathons. Now, Cathy is not only the Testimonial Manager at eDiets.com, but is a certified Lifestyle and Weight Management Consultant, helping others in their weight loss journeys.
eDiets Meal Plan will premiere on ShopNBC Wednesday, September 29 at 12 p.m. & 7 p.m. ET, and continue on Thursday, September 30 at 10 a.m. ET. Tune in or visit the company Web sites for more information.
About eDiets.com
eDiets.com, Inc. is a leading provider of personalized nutrition, fitness and weight-loss programs. eDiets currently features its award-winning, fresh-prepared diet meal delivery service as one of the more than 20 popular diet plans sold directly to members on its flagship site, www.eDiets.com. eDiets also provides the New Biggest Loser Meal Plan available at http://www.biggestlosermealplan.com. For more information, please visit www.eDiets.com.
About ShopNBC
ShopNBC is a multi-media retailer operating with a premium lifestyle brand. Over 1 million customers benefit from ShopNBC as an authority and destination in the categories of home, electronics, beauty, health, fitness, fashion, jewelry and watches. As part of the company's "ShopNBC Anywhere" initiative, customers can interact and shop via cable and satellite TV in 76 million homes (DISH Network channels 134 and 228; DIRECTV channel 316); mobile devices including iPhone, BlackBerry and Droid; online at www.ShopNBC.com; live streaming at www.ShopNBC.TV; and social networking sites Facebook, Twitter and YouTube. ShopNBC is owned and operated by ValueVision Media (NASDAQ: VVTV).
Add to Digg Bookmark with del.icio.us Add to Newsvine
Contact Info ShopNBC:

Anthony Giombetti
Media Relations
612-308-1190
[email protected]

Contact Info eDiets:

John Mills
Investor Relations
310-954-1105
[email protected]

eDiets PR Desk
954-703-6156


Copyright @ Marketwire
Page: 1
Related Keywords:
eDiets, Meal Delivery, ShopNBC, Diet, Weight Loss, Shop, Food Delivery, Online, Health, Provider, TV, Sales & Marketing,Networking,Internet,Management,Broadcast,Management,Streaming,Internet Media,Marketwire, Inc.,Apple Computer,Television,Lifestyle,Internet Technology,Social Networking,Other,
---