eBay in a fflap With First Social Marketing App
(May 18, 2010)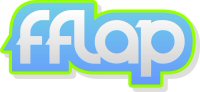 LONDON, ENGLAND -- (Marketwire) -- 05/18/10 -- Editors Note: There is a video included with this press release.
fflap.com, the social media e-commerce marketing platform, has been awarded eBay compatible app certification for its innovative tool which enables eBay sellers to harness the power of social networking to increase trading profitability by as much as 32% and sell items up to 60% faster (source: independent eBay trading statistics).
fflap is the first application to be certified by eBay as a social e-commerce marketing platform and is now available from the eBay solutions directory. The eBay Developers Program enables third-party developers to create innovative solutions for eBay sellers.
fflap.com enables eBay members to generate faster sales, maximise profits and encourage added bidding activity. The basic, free package has tools to search for listings, select the relevant items to inform social networks, add a personalised message, schedule messages and then track and graphically report the success of the fflapped message through bidding to sale. With tracking and reporting, users can adjust fflap strategies to maximise results for a specific trading style. fflap.com is the only site dedicated to providing these and other tools for eBay users.
fflap.com founder, Jonathan Yates, said: "Prior to fflap.com, there was no single platform which offered eBay sellers the tools to manage marketing and listing activities through social networks. eBay sellers need to shorten url's, schedule tweets, track listing-link click through and report on the success of marketing via social networks. fflap will be continually updated with increased functionality including the addition of social networks, reporting tools and sharing functionality."
eBay comments: "Through the eBay Developers Program, members are developing tools that will help make it faster and easier for users to trade within the eBay marketplace."
fflap, which is available both on the web and the iPhone, has been developed for anyone who sells using eBay, whether a business or an individual. The free service allows access to a basic set of tools and gives registered members a chance to use the service for free, for life. fflap.com is subscription based with monthly fees starting at $2.50 for the premier version and $3.00 for the professional version. The small monthly contribution opens up access to tracking, reporting, scheduling, greater daily fflap allowances, early release tools and premium support. The subscription packages have been designed to give each user the tools they need to communicate with customers effectively and profitably.
For further information visit:
fflap.com, we create the apps which make the social net work
NOTES FOR EDITORS:
"fflap" and "fflap.com" are always written lowercase
ABOUT THE FOUNDER
1. Jonathan has started and sold a soft drinks company from his back bedroom 2. This is Jonathans first technology startup. 3. Jonathan is an Ambassador for EnterpriseUK.Org 4. Jonathan Has written two books -- "Freesourcing: how to start a business with no money" -- "All-Time Essentials for Entrepreneurs"
To view the video associated with this release, please visit the following link: www.youtube.com/watch?v=Mo-HjxHq2-8
Add to Digg Bookmark with del.icio.us Add to Newsvine
Contacts:
MEDIA CONTACT DETAILS
VUME Ltd (fflap.com)
Jonathan Yates
+44 (0)7780 611 943 or +44 (0)845 643 0249
[email protected]
@jonathanyates


Copyright @ Marketwire
Page: 1
Related Keywords:
apps, app, fflap, fflap.com, ebay, twitter, social ecommerce, ecommerce, Sales,Marketing,Sales & Marketing,Networking,Internet,Social Media,Search,Sales,Sales,England,Marketwire,Apple Computer,Internet Technology,Business,Social Networking,england,Other,
---