adtivity by appssavvy Platform Celebrates First Year of the Activity Advertising Opportunity Pioneered for Publishers and Advertisers
The adtivity Platform, Based on Campaigns Reaching People as They Perform Activities Across Web, Social and Mobile, Is Capturing Billions of Records of Data Monthly to Take Advantage of the "Biggest Opportunity in Years to Change Advertising for the Bette
(April 30, 2012)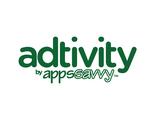 NEW YORK, NY -- (Marketwire) -- 04/30/12 -- appssavvy (www.appssavvy.com), an activity advertising technology company, today marked the first anniversary of the release of the adtivity™ by appssavvy platform. Since emerging from development a year ago, nearly 100 web, social and mobile publishers and developers have adopted adtivity, the first platform unlocking and creating net, new inventory that evolves display advertising from around to part of the content, much like the Internet's evolution from a mass repository of information to a living, dynamic, interactive experience.
"We pioneered and created activity advertising and believe it is the biggest opportunity in years to change advertising for the better," said Chris Cunningham, co-founder and CEO of appssavvy. "Publishers across web, social and mobile are embracing activity advertising and adtivity is delivering through new, display ad opportunities that take advantage of the natural breaks in the user experience. Not only are we cleaning-up the web, which is littered with ads around content, rather than part of it, but we're improving advertising for all."
Released in Beta a year ago this month, adtivity by appssavvy publically launched in September with more than 30 publishers and in November the platform's Mobile SDK (Software Development Kit) debuted. Today, the adtivity by appssavvy platform has forged a multi-platform activity-based advertising solution across the web, social and mobile for nearly 100 publishers driving billions of records of data monthly to continue to improve the activity advertising opportunity.
adtivity by appssavvy's adoption by publishers and developers continues to grow. By the end of 2011, the number of publishers and developers partnered with appssavvy since the September launch had doubled to more than 70. In 2012, that number has grown to nearly 100 with new publishers, including Ubisoft, brotips, Jango, picplz and TheBroth, integrating adtivity into their properties and activities.
Activity-based advertising through adtivity is generating an engagement rate on average 5 times the industry average. Nearly 100 different brands, including repeat advertisers, such as American Express, Coca-Cola and Nestle, have implemented activity advertising campaigns. Net new inventory created by adtivity is also available to 3rd party digital advertising companies.
"Activity-based advertising is a significant and welcome innovation in the display and social advertising space," said Yale Cohen, digital media director at ZenithOptimedia. "Reaching targeted audiences as they perform activities is an effective way to deliver and receive advertising. The strong results seen demonstrate the opportunity through adtivity to reach people at the right time -- it's all about timing."
"The benefit of digital advertising has always been consumer interaction," said Jeffrey Matisoff, SVP and group director of PHD. "adtivity takes it a step further by targeting consumers during moments of complete engagement through an ad unit brands can really embrace."
In addition, the first international campaign launched last week in Australia (Read more at the appssavvy Blog: http://blog.appssavvy.com/?p=1522).
About appssavvy
appssavvy (www.appssavvy.com) is an activity advertising technology company. Through its adtivity™ platform, appssavvy enables leading web, social and mobile publishers to unlock and create new, display advertising opportunities reaching people as they perform activities. adtivity by appssavvy offers scalable, center-of-the-experience, display ads, thus creating the most effective way to deliver and receive advertising. For more information, visit www.appssavvy.com.
CONTACT:
Steve Stratz
Illuminate Public Relations for appssavvy
206.300.9134
Email Contact


Copyright @ Marketwire
Page: 1
Related Keywords:
appssavvy, Australia,Marketwire, ,Internet Technology,Biology,
---