Zite Launches Your Intelligent Magazine
New Version Improves Zite's Intelligence, Discovery and Design
(December 04, 2012)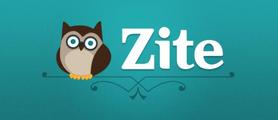 SAN FRANCISCO, CA -- (Marketwire) -- 12/04/12 --

Core News Facts
Zite today unveiled Zite 2.0, your intelligent magazine, a complete redesign of its popular personalized news app.
Zite helps you discover interesting things to read, by learning what you like and getting smarter as you use it. Zite is built on an intelligent discovery engine that analyzes millions of articles each day and brings you the best of your favorite magazines, newspapers, authors, blogs, and videos.
Zite's interface was redesigned from the ground up around three major themes: making Zite smarter than ever, introducing discovery at every turn, and designing Zite to have both beauty and brains. Many features have changed, including:

Making Zite smarter than ever

Zite now encompasses 40,000 topics, 20x the number in the previous version.
Your Top Stories, the main section in Zite, has been expanded to take into account even more of what you like. Simply click the heart icon on any topic and Zite will include more of that subject in Your Top Stories.
Zite is now integrated with Facebook to give you suggestions based on your Facebook history.

Discovery at every turn

When you need inspiration, the Explore Page gives you suggestions of interesting topics to browse and allows you to search through all 40,000 topics.
Topic Tags are intelligent topic suggestions on articles so you can dive deeper into a subject or explore something new.
The Headline News module shows the most talked-about headlines in news, using technology built for CNN Trends.
The Popular on Zite module shows stories that are popular among the Zite community.

Design with beauty and brains

Every pixel of Zite has been rethought and redesigned to create a stunning new user interface.
Many of Zite's features rely on our powerful underlying technology, but they were designed to encourage discovery subtly without getting in your way.
Zite is introducing a new logo: a curious, intelligent, approachable owl.
Zite has dozens of page layouts to give Zite the feel of a magazine.

The new Zite is now available for free download in the App Store for all iOS6 devices. The original version of Zite is currently available for Android and Windows Phone 7.
Launched as an iPad app in March 2011, Zite saw immediate success. Since then, Zite was acquired by CNN, launched a publisher program, integrated its technology into CNN.com by way of CNN Trends and released apps for the iPhone, Android Phone and Windows Phone 7.
Quotes
Mark Johnson, CEO, Zite
"Zite's vision is to change the way people discover information. The original version of Zite was groundbreaking, but with Zite 2.0 we've evolved into your intelligent magazine. Zite is now smarter than ever and will have you discovering unique content, fresh voices, and fascinating topics at every turn. We will continue to push the boundaries of what was thought possible for digital magazines."
Mike Klaas, CTO, Zite
"What really separates Zite 1.0 from Zite 2.0 is the user experience. Not only have we made Zite faster, smarter and more beautiful, but we've also been able to incorporate unique features that are made possible by our powerful discovery engine."
About Zite
Zite is your intelligent magazine that helps you explore your passions and discover new interests. Available as a free app on major mobile platforms, Zite is headquartered in San Francisco with offices in Vancouver, British Columbia. Zite is a wholly-owned subsidiary of CNN. Discover. Explore. Find out more at www.zite.com.
Contact
Audrey Craipain
Inner Circle Labs for Zite
Email Contact
(415) 684-9403


Copyright @ Marketwire
Page: 1
Related Keywords:
news aggregation, mobile app, news content, personalized digital magazine, Marketwire,Apple Computer,
---