ZipList Releases Mobile SDK for iPhone and Android Devices
(February 23, 2011)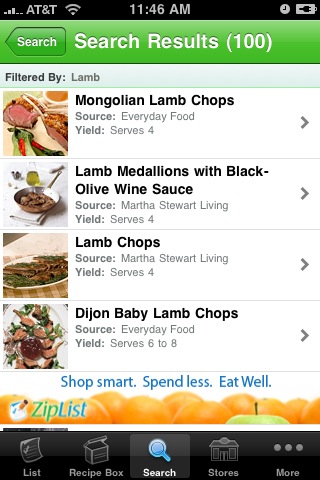 Sterling, VA (PRWEB) February 23, 2011
ZipList, a free online shopping list and recipe box service, today released a free cross-platform mobile SDK, affording the mobile developer community the freedom to integrate core ZipList mobile features, such as a barcode scanner with an integrated grocery product database, shopping list and recipe box into their own fully-branded, customized apps for iPhone and Android devices.
€śWe€™re excited to provide many of ZipList€™s core functions to developers of food, health and lifestyle apps, allowing them to enhance their own custom apps without changing their existing user interfaces,€ť said Geoff Allen, Founder and CEO, ZipList, Inc. €śMobile developers can now easily add advanced shopping list and recipe box functionality to their apps, including seamless web synchronization and list sharing.€ť
Key components of the free ZipList Mobile SDK include:
-Shopping Lists: Developers can enable end-users to build and share grocery lists with family members to let them view, add or delete items using their iPhone or Android phone. ZipList automatically categorizes items added to the list and enables users to assign items to different stores, prioritize and sort lists by importance, as well as sync their shopping lists with the web in real-time.
-Product Barcode Scanner: Enable iPhone and Android app users to scan product barcodes with ZipList€™s barcode SDK using the camera built into their devices to add both brand name and store brand items to their shopping lists. The barcode SDK even enables end-users to scan non-grocery items, like books, DVDs and toys.
-Robust Product Database: With more than one million products in its database, ZipList makes it easy for consumers to quickly add specific items to their grocery lists on-the-go, eliminating the requirement to type in full product names.
-Recipe Search: Users can search publisher recipe databases, as well as over 500,000 recipes from popular websites if desired. Required ingredients for all recipes can then be added to grocery lists with one click. ZipList also recognizes common pantry items, such as salt and olive oil, which users may not need to add to their lists. Recipes can be shared by users via email, Facebook or Twitter directly from their mobile devices.
-Seamless Branded Web Experience: Developers can enable end-users to have a seamless online experience by deploying ZipList€™s embedded web functionality along with the new cross-platform mobile SDK. Consumers can then add recipes or grocery items directly from publisher sites, which will then immediately sync with their branded apps.
Minimum Requirements: The ZipList Mobile SDK supports iOS 4.0 and higher, and will work on the iPhone 3G, 3GS and 4. The SDK also supports devices running Android 1.6 or above. Developers can implement any or all of the SDK features into their apps.
For more on the new ZipList Mobile SDK, including sample code and documentation, please contact mobilesdk(at)ziplist(dot)com.
About ZipList, Inc.
ZipList is a free, easy-to-use online and mobile shopping list and recipe search service that enables shoppers to create and share grocery lists with family members. Users can arrange their lists by aisle or store, and can save recipes to a central recipe box. ZipList has partner tools available to enable media and lifestyle properties to incorporate shopping list and recipe box features into their own sites and mobile apps. ZipList features can be found on AOL€™s KitchenDaily.com, MarthaStewart.com, Martha€™s Everyday Food iPhone app and various food blogs. ZipList is on the web at http://www.ZipList.com.
Check out the ZipList blog at http://blog.ziplist.com for the latest recipes, product updates, money-saving advice and grocery shopping tips. Follow ZipList on Twitter at http://www.twitter.com/ZipList or become a Facebook Fan at http://www.facebook.com/ZipList. ZipList is also available as a free mobile app for iPhone and Android users. For more on these mobile apps, visit http://www.ZipList.com/apps.
# # #
Read the full story at http://www.prweb.com/releases/2011/02/prweb5091814.htm.
Page: 1
Related Keywords:
food,beverage,food,food safety,lifestyle and leisure,lifestyle (house and home),internet,computing and information technology,satellite technology,wireless technology,science and technology,technology (general),identification technology,agricultural research and technology,economy, business and finance,financial and business service,business enterprises,business (general),computing and information technology,satellite technology,software,wireless technology,science and technology,technology (general),identification technology,agricultural research and technology,computer crime,software,
---