ZigMail(R) Unveils Zigit -- Where Email Gets Social
A Simple Way to Share Email Deals and Newsletters With Your Social Network
(April 18, 2012)

SANTA CLARA, CA -- (Marketwire) -- 04/18/12 -- DEMO Spring 2012 - ZigMail, a privately-held software company that provides a hub for your transactional life, today unveiled Zigit, a free web service that allows consumers to share email offers and content across social networks including Facebook and Twitter. Zigit transforms email -- the #1 daily online activity(1) -- into a powerful word-of-mouth referral engine.
Zigit extends the ZigMail platform, a free solution that eliminates email overload by separating, organizing and summarizing messages you request from retailers, financial institutions, travel providers and other companies. ZigMail works with your current email. It automatically transfers and categorizes your daily deals, catalogs, receipts and account alerts using its Quickstart system and delivers an interactive daily ZigDigest™ to your PC, smartphone or tablet. On average, beta users receive 100 emails a day and see 70 percent less email clutter in their personal email account after using ZigMail(2).
Share Email with Friends and Followers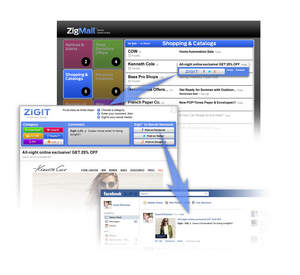 With one click, Zigit allows users to share deals, new products, or other emails via their social network. This patent-pending new technology not only makes it very easy to share an email on social websites, but friends can view the entire email, access all the links and deal codes and comment and interact with the email with all the benefits of social media sites. It unites email, one of the largest places for an individual's digital content, with social media, the most popular way to share content, making Zigit a breakthrough solution at the intersection of the two leading communication methods for U.S. consumers(3).
"People are deluged with information from companies that gets stuck in personal email silos," said Michael Kennedy, co-founder and president, ZigMail. "We're simplifying their transactional lives by eliminating email clutter and making it easy to find and share content that matters most to them."
Richard Gerstein, co-founder and CEO, ZigMail, added, "Zigit represents the next generation in social commerce. It's a powerful new way for consumers to advocate for the brands they love, while bringing great value to friends in their social network."
"I describe ZigMail as an elegant box for your transactional email and a nifty service that gives you control," said Matt Marshall, executive producer, DEMO. "ZigMail's approach to breaking down the barriers between email and social media with Zigit is something we've never seen -- it's what entrepreneurship is all about and what sets them apart at DEMO. ZigMail is definitely a company to watch."
Exponential Reach for Marketers
Zigit allows marketers to amplify their email efforts by engaging credible customer evangelists. ZigMail partners such as Meijer (www.meijer.com), a retailer that operates 197 supercenters and grocery stores throughout the Midwestern United States, are considering Zigit as a way to reach new customers that may not be aware of their new products or special values.
"As Meijer has grown to nearly 200 stores, email and social media have become very important ways for Meijer to communicate with our most loyal and valued customers and drive awareness and traffic for our stores and website," said Kevin Brown, chief marketing officer at Meijer. "We're excited about the potential for ZigMail and Zigit to harness these powerful platforms."
Availability & Pricing
ZigMail and Zigit are free services. ZigMail is available now and Zigit will be available during DEMO Spring 2012. Sign-up at www.zigmail.com.
ZigMail at DEMO Spring 2012
Meet the ZigMail team in the pavilion at DEMO Spring 2012, an invitation-only event where venture capitalists, entrepreneurs and media celebrate the hottest startups in enterprise, mobile, cloud, consumer, social media and disruptive technologies. ZigMail's presentation on Thursday, April 19th, will be streamed live and made available on-demand from IDG after the conference. Follow #DEMO12 or visit www.demo.com.
Resources
Join @ZigMail on Twitter at www.twitter.com/zigmail.
Like ZigMail on Facebook at www.facebook.com/zigmailcompany.
See how ZigMail works in the video at www.zigmail.com.
Download a press kit at www.zigmail.com/newsroom.
For partnership and advertising opportunities, visit www.zigmail.com.
About ZigMail
ZigMail is a privately-held, angel-backed provider of applications that simplify your transactional life. Designed to thwart email overload, ZigMail makes email less of a headache for consumers and more impactful for marketers by automatically capturing, sorting and summarizing transactional communications from companies, such as offers, deals, account summaries and receipts. With Zigit, consumers can share ZigMail content across social networks with one click. ZigMail works with a user's current email account without downloading anything to your desktop, tablet or mobile device. Founded in 2011, ZigMail is an Outhaul, LLC offering. Visit www.zigmail.com.
ABOUT DEMO
Produced by the IDG Enterprise events group, the worldwide DEMO conferences focus on emerging technologies and new products innovations, which are hand selected from across the spectrum of the technology marketplace. The DEMO conferences have earned their reputation for consistently identifying cutting-edge technologies and helping entrepreneurs secure venture funding and establish critical business. For more information on the DEMO conferences, visit www.demo.com.
Sources:
(1)Pew Research Center's Internet & American Life Project tracking surveys (2002-2011) http://www.pewinternet.org/Reports/2011/Search-and-email/Report.aspx
(2)ZigMail surveys
(3)ExactTarget Channel Preference Study (April 2012) http://resources.exacttarget.com/rs/exacttarget/images/SFF14_The2012ChannelPreferenceSurvey_WEB.pdf
ZigMail is a registered trademark of Outhaul, LLC. ZigMail®, ZigDigest™ and Quickstart™ are the property of Outhaul, LLC. All rights reserved. All other product and company names may be trademarks of their registered owners. This press release is for informational purposes only and no offer to buy or solicitation of an offer to sell any securities is made hereby. The forward-looking statements in this release are subject to unknown risks and uncertainties and do not constitute guarantees of future performance. Actual results, performance or achievements of the company may differ materially from results, performance or achievements of the company expressed or implied by such forward-looking statements.
Image Available: http://www2.marketwire.com/mw/frame_mw?attachid=1953213

Add to Digg Bookmark with del.icio.us Add to Newsvine
Media Contact:

Joanna Rustin
ZigMail
866-496-8028
Email Contact


Copyright @ Marketwire
Page: 1
Related Keywords:
email, email overload, inbox, daily deals, startup, entrepreneur, social media, demo conference, Internet, Digital Media Software, Communications, Web, Smart Phone, Applications, Research, Video, EMail, Social Media, Sales, Applications, Advertising, Marketing, Sales & Marketing, Internet, Business Issues, Social Media, Internet Server Applications, E-mail, Pro AV, Presentors, Internet/Web, Prosumer/Consumer, Business, Internet, Web, Email, Social Media, Handheld PC/PDA, Marketing, PDA/Smartphone, email, USA, Marketwire, , Financial, Grocery Stores, Internet Technology, Business, Internet, Email, Other,
---