Zenprise Launches Industry's First Enterprise Mobile DLP Solution; Offering Helps Organizations Embrace 'Bring Your Own Device' Trend
(September 28, 2011)

REDWOOD CITY, CA -- (Marketwire) -- 09/28/11 --
Mobile Device DLP capability part of overall Zenprise Mobile Enterprise Security Framework
Further enables companies to embrace and support BYOD
Provides context and content-aware policy based mobile DLP capabilities
Zenprise®, Inc., a leading provider of mobile device management software, today announced its Mobile Enterprise Security Framework including the industry's first enterprise-grade mobile DLP solution for managing and securing the growing number of personally owned devices entering the workplace.
The Zenprise Enterprise Mobile Data Leakage Prevention (DLP) solution gives IT administrators the ability to monitor mobile user behavior in order to set and apply effective policies for controlling and protecting mobile devices on the network.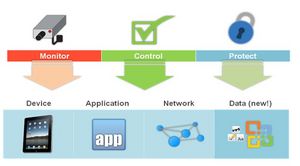 "More than ever, employees are using a variety of personal devices to access network resources, increasing the likelihood that sensitive or confidential data will end up in the wrong hands," said Ahmed Datoo, chief marketing officer at Zenprise. "The Zenprise Mobile DLP solution provides an effective and seamless way to control and protect those devices so workers can continue using them to be productive -- without putting the organization or themselves at risk."
Unlike other offerings, the Zenprise Mobile DLP solution works by transparently monitoring and securing content at the data layer rather than by trying to isolate or "containerize" applications, an approach that often hampers the user experience and isn't always effective. The solution features dynamic context- and content-aware, policy-based mobile DLP capabilities that provide security, data control, audit and compliance, and data expiry for sensitive data across its lifecycle.
In addition, Zenprise's Mobile DLP application integrates natively with Microsoft SharePoint and Office 365 via an encrypted network connection that enables end-to-end control and synchronization of corporate data. The implementation is a snap-in approach and requires virtually no change to an organization's existing infrastructure to enable protection of corporate data on mobile devices.
Mobile Network Intelligence
Zenprise has supplemented the industry's first enterprise mobile DLP solution with Mobile Security Intelligence, a feature that gives IT administrators visibility into mobile network traffic, and behavior by device, user, system or application. It can help them identify unauthorized access, insider threats, leakage of sensitive corporate data or compliance violations -- and arm them with the information they need to remediate the situation. Together, Zenprise's Mobile Security Intelligence and Enterprise Mobile DLP application combine visibility with control and protection across the entire data lifecycle.
Zenprise Mobile Enterprise Security Framework
Corporations have one primary requirement: real-time security at all layers of the mobile enterprise. To ensure true enterprise-grade mobile device management and security, the Zenprise Mobile Enterprise Security Framework is built on three tenets -- monitor, control and protect -- that encompass the device, application, network and data.
The Zenprise Enterprise Mobile DLP solution will be available later this fall for iOS-based devices as part of Zenprise MobileManager™. A version for Android-based devices is expected to be available later this year.
About Zenprise
Zenprise's extensive list of global customers spans a cross-section of countries and vertical industries including: aerospace and defense; financial services; healthcare; oil and gas; legal; telecommunications; retail; entertainment; and federal, state and local governments.
Zenprise, provider of award winning mobile device management and security solutions, enables enterprises to confidently secure, manage and grow their mobile deployments as they mobilize their workforce. Zenprise protects the enterprise at more points against more threats than any other vendor in the market. Using Zenprise software, companies can reduce their mobile TCO costs by over 25 percent, increase customer service levels by over 75 percent and ensure corporate compliance rates of 100 percent. Supported smartphone platforms include iPhone, Android, BlackBerry, Symbian and Windows Mobile devices. Founded in 2003, Zenprise is headquartered in Redwood City, California and is privately held with funding from investors Bay Partners, Ignition Partners, Mayfield Fund, Rembrandt Venture Partners, and Shasta Ventures. Zenprise's executive and product teams bring enterprise software experience from companies such as Mercury, EDS, Zambeel, Bay Networks, and Loudcloud. For more information, go to www.zenprise.com.
© 2011 Zenprise, Inc. All rights reserved. Zenprise is a registered trademark and Zenprise MobileManager and Zenprise Secure Mobile Gateway are trademarks of Zenprise Inc. All third-party trademarks, trade names, or service marks may be claimed as the property of their respective owners.
Image Available: http://www2.marketwire.com/mw/frame_mw?attachid=1746385

Media Contacts:

Maureen O'Connell
Zenprise, Inc.
moc[email protected]
+1 650 395 6957

Cristina Thai or Allison Zigulis
North of Nine Communications
[email protected]
+1 415 268 4800

Max Tatton-Brown or Andrea Berghall
EML Wildfire
[email protected]
+44 208 408 8000


Copyright @ Marketwire
Page: 1
Related Keywords:
mobile device manangement, mobile security, Digital Media Software,Communications,Digital Audio,Smart Phone,PDA,iPods,iphone,Applications,Sales & Marketing,Security,Business Issues,Threats,Management,Marketwire, Inc.,IT (Information Technology),Security,Apple Computer,Financial,Other,
---