Zagada Foundation Announces Support for Tam Hunt's Crowdfunded Film Addressing Spirituality in the Information Age
(May 08, 2012)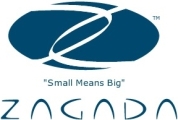 MIAMI, FL and CORAL GABLES, FL -- (Marketwire) -- 05/08/12 -- Zagada Markets, through its Zagada Foundation, announces the support of Tam Hunt's debut film, Seeking the Divine: Spirituality in the Information Age. The project is an in-progress documentary film and has initialized its funding push through a crowd funding campaign with Indiegogo.com
Companies, individuals and organizations seeking to join Zagada and other funders in supporting Tam's visionary project are welcomed to view the trailer, review film and contribute through the link below:
(http://www.indiegogo.com/projects/88899?c=home).
The film focuses on the trend away from organized religion and toward a more personalized and authentic spirituality. Its format is a collection of interviews, anecdotes and observations about modern spirituality, from both experts and laypeople. An attempt is made at outlining the central and unifying commonalities among the emerging spirituality suitable for the Information Age that defines our current lives.
Hunt summarizes the key message of the film by expressing the following: "How do we find meaning in a universe that is often so cold? We are increasingly rejecting the solutions offered by organized religion and instead embracing a more personalized path to truth and spirituality."
A sampling of important observations from key interviewed participants are captured from the quotes featured below:
"The first thing to recognize is that the view of God that is the standard view, the all-knowing, the all-powerful, the all-loving, is just one possible way of conceiving of some sort of intelligence greater than our own. There is a view that it's sort of all or nothing. But maybe this is a mistake, not that there can't be some sort of higher power."
Prof. Jonathan Schooler, Psychology, UC Santa Barbara.
"I started to see so many common themes and imagery [in all of my reading in various spiritual and religious traditions] and I started to think that there's probably a mind that we have that is echoing a [larger] mind that we don't have, but we're part of that mind and that mind is part of us."
Elizabeth Stewart, Art Appraiser and scholar of religion.
In supporting the venture, Peters is quoted as saying, "In business we're traditionally taught to stay away from mentioning religion and politics; however, the renewed focus by business schools to now seriously include courses on ethics and governance, and society's wider embrace of social entrepreneurship, care giving, work-life balance and the like, are all meta spirituality concerns," Peters said. "The spiritual practice of the late Steve Jobs and the products his company delivers to us, and the philanthropic thrust of Bill Gates and his foundation, are solid exhibits in applied spirituality from the information society heavyweights," Peters emphasized. "We celebrate and support Tam's film project and encourage others to do so with us," Peters concluded.
An article describing Hunt's motivation and personal experience is available at: http://www.noozhawk.com/article/040912_tam_hunt_spirituality_in_the_information_age/
For more information please contact us directly at 305 322 8156 or 305 529 9028 or email at ZF@zagada.com. To contact Tam directly, please reach him at, 805 214 6150, or reach him by email at tam.hunt@gmail.com.
About Tam Hunt
Tam Hunt is a lawyer and philosopher based in Santa Barbara. He obtained his law degree from the UCLA School of Law and practiced corporate law for a number of years before starting his own consulting company focused on renewable energy policy and project development, Community Renewable Solutions LLC. Hunt also focuses on music and film-making. This is his first full-length documentary endeavor. http://www.tamhuntconsulting.com/
About Zagada Foundation
The Zagada Foundation is the private vehicle through which Zagada and its partners' seed support creative and life-affirming ventures for individuals and organizations. An emphasis is given to projects addressing true and emerging passions, validated as such.
Zagada Markets
Zagada is a business development analytics firm and is the leading Nearshore advisor to Fortune 500 corporate buyers and a global boutique in data driven outsourcing talent and cost analysis. The company provides research, indexes, rating and tailor-made advisory services on countries, cities and service suppliers to corporations. The company principally serves the corporate buy-side and is totally focused on delivering sourcing analytics on the global outsourcing sector. Please visit Zagada online at www.zagada.com
For more information:

Zagada
305 322 8156
305 529 9028
Email Contact

Tam Hunt
805 214 6150
Email Contact


Copyright @ Marketwire
Page: 1
Related Keywords:
Zagada Markets, Movies & Music, Internet, Business Issues, Law & Regulations, Camera/Film, Business, Law, email, Marketwire, , Film, Music, Environmental Technology, Green Technology, Business, Email, Other,
---