Zacuto Releases First Episode of Revenge of the Great Camera Shootout 2012
(June 21, 2012)

CHICAGO, IL -- (Marketwire) -- 06/21/12 -- It's back and it's bigger than ever! New test footage shot by expert DPs and celebrity guests will change your perspective on cameras and filmmaking.
Many of the comments have people feeling shocked, inspired and moved. This is like no shootout ever with the operative word Revenge.
"Not at ALL what I expected to hear. I feel cured of my camera envy and inspired to go shoot," said cinematographer Philip Bloom on Twitter, June 15th.
On Friday, June 15th at 12:00pm CDT Episode 1 of Revenge of the Great Camera Shootout 2012 went live on www.Zacuto.com. This 90 minute documentary produced by Zacuto & Kessler, in association with FilmWorkers Club and Tribeca Flashpoint, will be presented in three 30 minute episodes that will air on the 15th of June, July, and August.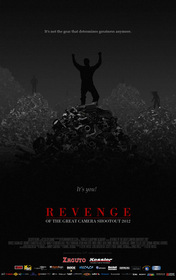 This shootout demonstrates what you can achieve with a variety of cameras on the same set by letting expert DPs who've mastered these cameras get creative with them. This shootout is about what a camera is capable of and what a DP can do with his abilities to make it look great with their skills, experience, and talent. The cameras used include: Sony F65, Arri Alexa, Red Epic, Sony FS100, Sony F3, Canon C300, Canon 7D, Panasonic GH2 and Apple iPhone 4s.
The creative challenge presented in Part One, created by test administrator Bruce Logan, is a complex party scene with a 14 stop range. Each DP was asked to shoot the scene based on their knowledge and expertise of a particular camera. The episode ends with a presentation of all nine cameras and the viewer is asked to choose which ones they like best.
Later this summer in Part Two, the unlabeled footage is revealed and you'll hear the reaction from audiences around the world. Perceptions change quickly -- some for better, some for worse -- when they learn their picks may not be what they expected.
In Part Three, the cameras will be put through an empirical test with locked down lighting. We'll see how the cameras measure up on paper and get into the science and technical aspects of how these cameras handle shadows, highlights, and resolution match up.
Steve Weiss, web series director, along with his DP/operator of 27 years, Jens Bogehegn, interview Bruce Logan ASC, Haskell Wexler ASC, Janusz Kaminski, Stephen Goldblatt ASC/BSC, Rodney Charters ASC/CSC, Peter James ASC/ACS, Victor Kemper ASC, Steven Fierberg ASC, Bob Primes ASC, Stephen Lighthill ASC, Nancy Schreiber ASC, Michael Negrin ASC, Steven Poster ASC, Frederic Goodich ASC, Polly Morgan, Philip Bloom, Vincent Laforet, among others on a variety of subjects that will both move and enlighten you.
"It shows you, (that) in the right hands, you can make a beautiful image," says Weiss. He goes on to say it's about mastering the camera you have, learning how to light properly for your camera's strengths and limitations, getting your color settings dialed in, knowing how to adjust the grade in post.
Viewer reactions on the Zacuto website and on Twitter have been overwhelming:
"Great documentary and camera tests featuring some of the best DPs in the business."
-Fred Briones
"Moving, brilliant, and passionate. Makes me love what I do even more."
-Dave Bode
"Every filmmaker should watch this series."
-Jeremy Ta'kody
"Holy cinematography 101: the new zacuto shootout part 1 just makes you want to make movies."
- @enicholsonphoto
In 2010 The Great Camera Shootout made its premiere with a showdown between DSLRs and 35mm film and went on to win an Emmy Award (Midwest Region). In 2011 the Shootout returned with a focus on Single Chip Camera Evaluation (SCCE) and broadening the understanding of the elements that create image quality. The 2011 Shootout received two Emmy nominations (Midwest Region).
It's critical you watch all three episodes of Revenge of the Great Camera Shootout 2012 to fully understand the total message. Each segment will feature three of the nine filmmakers describing their approach to the creative shot. The three segments are interwoven and to only watch one episode will not present the full story.
Revenge of the Great Camera Shootout 2012 can be viewed online here.
Choose your favorite cameras and stay tuned for Part Two on July 15th!
ZACUTO, located in Chicago, Illinois, is known for their "Made in the USA" brand of high quality, originally designed camera accessories. Zacuto Films produces original programming with EMMY's won in both 2010 & 2011 (Midwest region) http://www.zacuto.com or follow @Zacuto on Twitter. 888-294-3456
Image Available: http://www2.marketwire.com/mw/frame_mw?attachid=2020409

Add to Digg Bookmark with del.icio.us Add to Newsvine
Copyright @ Marketwire
Page: 1
Related Keywords:
zacuto, camera shootout, dslr, camera tests, bruce logan asc, sony fs100, sony f3, filmmakers, film, Pro AV, Presentors, Camera/Film, Business, Programming, Authoring/Programming, Marketwire, Sony, Panasonic, Apple Computer, Film, Internet Technology, Business, Science,
---