YouSendIt and Yahoo! Make It Easier to Share Content in Yahoo! Mail
Attach Large Files Application Now Embedded Within Yahoo! Mail Messages
(June 12, 2012)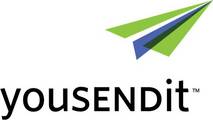 CAMPBELL, CA -- (Marketwire) -- 06/12/12 -- YouSendIt, Inc., the leading provider of file transfer and business content collaboration services for professional users from small businesses to the largest enterprises, today announced that its Attach Large Files application is now available within the "Compose Message" window in Yahoo! Mail. Mail users can compose an email and attach files via YouSendIt seamlessly from within the message itself. Yahoo! selected YouSendIt for its easy integration and usability. YouSendIt is the first partner application to be included in Yahoo!'s compose message window.
Since its initial release in the applications gallery of Yahoo! Mail in January 2011, approximately eight million users have registered for YouSendIt from Yahoo! Mail and sent more than 20 million files, making YouSendIt's Attach Large Files the most popular third-party application in Yahoo! Mail.
Popularity of Email
Despite the buzz surrounding social networks and content portals, email remains the dominant way people collaborate at work and home. According to GigaOM Pro's January 2012 report "Practical business content collaboration: Personal tools show the way," 92 percent of people use email to collaborate with customers, vendors or business partners. The report adds, "easy-to-use applications and services with roots in email will play an important role in collaboration in the future."
"Today, professionals are exchanging larger files more frequently than ever before," said Ted Chen, Vice President of Strategic Partnerships at YouSendIt. "In partnership with Yahoo!, we are able to serve even more small businesses, making it easier to communicate and collaborate within their preferred collaboration vehicle of choice -- email."
All files sent through YouSendIt are encrypted and scanned by the system for virus protection. Users can also receive delivery confirmation and verify recipient identity through the application.
YouSendIt's Attach Large Files app was created using YouSendIt's scalable APIs and Yahoo! Mail Development Platform. For more information about YouSendIt's APIs, please visit http://developer.yousendit.com/.
We Work Where You Work
YouSendIt allows individual professionals in small businesses, departmental workgroups and large enterprises to easily send large files, access critical content and even close business -- all from the tools they use today. Deeply integrated right in the most popular webmail services and email workflows and powered by rich mobile, desktop and Web apps, professionals collaborate quickly, securely and intuitively in the environments where they work. As a cloud-based service, YouSendIt delivers anytime, anywhere access bringing greater ease to professionals work lives. YouSendIt works directly in email environments such as Microsoft Outlook, Yahoo! Mail, Gmail, AOL Mail, Hotmail and Thunderbird, mobile devices such as iPhone, iPad, Android devices and Kindle Fire and desktop sync apps for PC and Mac.
About YouSendIt
YouSendIt, Inc. is the leading provider of file transfer and business content collaboration services for professional users from small businesses to the largest enterprises, with millions of registered users in 193 countries across 98 percent of the Fortune 500. The company's online services span from simple file sharing to a comprehensive content collaboration suite of services that allow users across an entire organization to securely share content, sign documents and access files from any mobile device or PC. Workstream by YouSendIt™, the company's flagship enterprise content collaboration offering, allows professionals to collaborate on content with users both inside and outside their organization while providing IT with centralized security policy and administrative controls to manage the flow of work across the entire extended enterprise. Headquartered in Campbell, CA, YouSendIt is a privately held company backed by venture capital firms Adams Street Partners, Alloy Ventures, Emergence Capital Partners, Sevin Rosen Funds and Sigma Partners. For more information, please visit www.yousendit.com.
Media Contact:

Erin Lumley
Trainer Communications
925-271-8229
Email Contact

Gary Chesnutis
Public Relations Manager, YouSendIt
360-936-5020
Email Contact


Copyright @ Marketwire
Page: 1
Related Keywords:
business content collaboration services, YouSendIt, enterprise, Mac,OS9,OSX,Marketwire, Inc.,Apple Computer,Internet Technology,Business,Email,
---