YouSendIt Continues Rapid Growth in First Quarter of 2012
Advances Enterprise Offering, Gains New Customers, Signs New Partners
(May 02, 2012)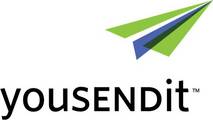 CAMPBELL, CA -- (Marketwire) -- 05/02/12 -- YouSendIt, Inc., the leading provider of extended enterprise collaboration services, today announced rapid growth fueled by a 59 percent surge in paid subscribers in the first quarter of 2012 compared to the first quarter of 2011. A pioneer of the freemium business model, YouSendIt also grew registered users by 71 percent since the first quarter of last year. Today, the company has 585,000 paid subscribers and 30 million registered users. Momentum continued in Q1 with the introduction of a new business-to-business content collaboration product line -- Workstream by YouSendIt™, adoption by new enterprise customers and announcement of new partners.
Mobile Collaboration & The Real-Time Extended Enterprise
A survey by GigaOM Pro revealed that a majority of business managers are using a product or service for content collaboration at work that IT did not know about or sanction. Nearly two-thirds (63 percent) of business managers admit doing so. The most common reason given for routing around the prescribed way of doing things was the usability of these new collaboration tools. To support both IT's desire to empower easier collaboration outside the firewall and the need to protect and secure critical corporate data, YouSendIt launched Workstream in March.
The latest organizations to adopt Workstream include The Absolut Company, The Hartsfield-Jackson Atlanta International Airport, Media General, Inc., Pernod Ricard, Stephen Gould Corporation and True Manufacturing. Enterprises choose Workstream not only because it is secure, but also because it offers a business advantage. Stephen Gould Corporation, the largest privately owned packaging sales organization in the United States, chose to arm its sales force with the Workstream iPad app, empowering users to access real-time business information from anywhere.
Tailored specifically for enterprises, Workstream employs enterprise policies across its mobile applications for Android, iPad and iPhone with features like encryption at the device level, passcode protection and remote wipe. In addition, YouSendIt recently partnered with MobileIron to provide enterprises with secure business-to-business content access and collaboration from Android and iOS devices. YouSendIt's Android, iPhone and iPad apps can now be centrally provisioned from MobileIron's Enterprise App Storefront, making them easy to deploy across the enterprise.
Partnerships Spur Enterprise Adoption
YouSendIt made a move to expand its presence in the enterprise market by forming a partnership with one of Microsoft's top six Large Account Resellers, Softmart. YouSendIt also partnered with the largest Authorized Distributor of Google Message Security & Compliance and one of the largest Authorized Resellers of Google Apps for Business, Excel Micro. With a network of more than one million licenses and focus on offering cloud-based email security and archiving solutions, Excel Micro became a natural partner for YouSendIt.
Extended Enterprise Collaboration: Workstream by YouSendIt
Workstream makes accessing, sharing and managing content easier than ever. It offers deeper integration with Microsoft SharePoint and new administrative policies that transform how users securely share content beyond the firewall and across mobile devices, desktops and the Web. Workstream also integrates seamlessly with Outlook and Active Directory, making it easy to provision and de-provision thousands of users and enabling content collaboration to sit tightly within the Microsoft solution stack. As a result, users do not have to switch among multiple applications to share critical content.
New management and security features released to Workstream customers since the product line's debut include:
Group-based policies and branding: Create groups and set specific policies, including whitelists/blacklists, password protection and file retention. In addition, administrators can centrally configure corporate and departmental branding for emails, recipient download and shared folder pages.
Virus scanning: All sent files are scanned for viruses prior to download.
YouSendIt also recently introduced features to advance professional productivity, including:
Versioning: Access previous versions of a file that have been uploaded/synced. If an unintended change is made, an earlier copy can be retrieved.
Preview: Preview documents in folders from the Web app.
Strategic Hires
Further strengthening its management team, the company recently appointed Stanford Au as its new chief technology officer. Au is responsible for technology strategy, engineering and quality assurance programs, as well as product research and development. He also oversees YouSendIt's IT and data center operations.
Au joins a growing team. YouSendIt increased its staff size by 63 percent over the previous year and continues to hire. To join the YouSendIt team visit: www.yousendit.com/careers.
Industry Recognition
YouSendIt continues to gain recognition for its growth and leadership in enterprise mobility and content collaboration. Ernst & Young selected CEO Ivan Koon as an E&Y Entrepreneur of the Year Semifinalist. In addition, YouSendIt's iPad app was named a Webby Award Official Honoree in recognition of its functionality and overall experience.
About YouSendIt
YouSendIt, Inc. is the leading provider of extended enterprise collaboration services, with millions of registered users in 193 countries across 98 percent of the Fortune 500. The company's online services span from simple file sharing to a comprehensive content collaboration suite of services that allow users across an entire organization to securely share content, sign documents, and access files from any mobile device or PC. Workstream by YouSendIt™, the company's flagship enterprise content collaboration offering, allows professionals to collaborate on content with users both inside and outside their organization while providing IT with centralized security policy and administrative controls to manage the flow of work across the entire extended enterprise. Headquartered in Campbell, CA, YouSendIt is a privately held company backed by venture capital firms Adams Street Partners, Alloy Ventures, Emergence Capital Partners, Sevin Rosen Funds and Sigma Partners. For more information, please visit www.yousendit.com.
Media Contacts:
Lori Shen
YouSendIt, Inc.
408-429-7132
Email Contact

Erin Lumley
Trainer Communications
925-271-8229
Email Contact


Copyright @ Marketwire
Page: 1
Related Keywords:
business content collaboration services, YouSendIt, enterprise, USA, Marketwire, Inc., , Apple Computer, Internet Technology, Business, Email,
---