YouSendIt Closes Record Revenue in 2011
Company Reports 61 Percent Revenue Increase Over 2010 and 28 Million Users
(February 15, 2012)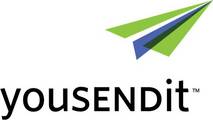 CAMPBELL, CA -- (Marketwire) -- 02/15/12 -- YouSendIt, Inc., a leader in business content collaboration services, today announced it achieved record revenue in 2011, up 61 percent over the prior year. Revenue growth was driven by deployments across organizations like Clorox Services Company, Chivas Brothers, JWT and State of Alaska; the launch of a suite of business content collaboration services, including content delivery, synchronization, folder sharing and e-signature; and the expansion of services across mobile devices, desktops and the Web. Today, the company has 28 million registered users and continues to add 1.2 million new registered users every month. This includes 550,000 paid subscribers, up 78 percent over 2010.
"If your product isn't easy to use, doesn't show instant value, isn't available everywhere and isn't compatible with everything, you'll never succeed," said Thomas Vander Wal, analyst, GigaOM Pro and principal, InfoCloud Solutions, Inc. "Companies today are continuing to spend time and resources deploying projects that are doomed to fail. Services like YouSendIt that are easy to use and have roots in email, document sharing and file syncing will play an important role in collaboration in the future."
Built for Enterprises
YouSendIt's growth in 2011 was driven by deployments in enterprises and organizations such as Clorox Services Company, Chivas Brothers, JWT and State of Alaska. A number of customers selected YouSendIt as part of an email system update as they migrated to Microsoft Exchange or Office 365. The company also experienced traction among enterprises in need of an easy-to-use content collaboration solution to support an increasingly mobile workforce. Today, YouSendIt is used within 98 percent of Fortune 500 companies.
With user authentication; identity verification; integration with Microsoft's Active Directory and Outlook and encryption of data in transit, at rest and on device, YouSendIt meets IT's mandate for security and management. YouSendIt delivers a completely integrated and consistent user experience across the Web, smartphones (iOS and Android), tablets and Mac or PC desktops.
Collaboration Made Easier
Last year, YouSendIt extended its service for professionals, teams and enterprises. It became the first content collaboration company to offer an integrated approach for securely sending files, sharing folders, synchronizing devices and electronically signing documents. Average activity per month and subscriptions increased following the introduction of its new services in July 2011. In fact, collaboration within YouSendIt increased by 75 percent and subscriptions grew by 40 percent within the first 100 days.
"YouSendIt makes it easier for professionals to collaborate with their clients, partners and vendors," said Ivan Koon, CEO, YouSendIt. "Our services are integrated into places -- including email and Microsoft software -- where our customers are already conducting business, allowing our users to be more productive without forcing them to abandon the tools that they use today."
Recognized Industry Leader
In 2011, YouSendIt was recognized for its growth and leadership:
The company was ranked on Deloitte's "Technology Fast 500" of fastest-growing technology companies for the second year in a row.
YouSendIt ranked number 207 in Inc. Magazine's list of the country's "500 Fastest-Growing Companies," which ranks companies by overall revenue growth over a three-year period.
A jury of press and industry analysts named YouSendIt a "Fastest-Growing Company of the Year" in the Best in Business Awards.
The Silicon Valley/San Jose Business Journal recognized YouSendIt as one of Silicon Valley's "Fastest Growing Private Companies" for the second year in a row.
The Silicon Valley/San Jose Business Journal named Renee Budig a "CFO of the Year."
YouSendIt also added 75 employees, growing 56 percent in 2011. New hires include industry veterans Vice President of Sales Bobby Jaffari from Cisco and Vice President of Worldwide Alliances Sean Jacobsohn from Cornerstone OnDemand. To accommodate its growing team, the company expanded its office space in 1919 South Bascom Avenue located in Campbell, Calif.
About YouSendIt
YouSendIt, Inc. is the first business content collaboration service to offer an integrated approach for sending, sharing and signing documents online. With 28 million registered users in 193 countries, YouSendIt helps enterprises and business professionals streamline collaboration by enabling them to instantly sync and access content in the cloud and easily send files, share folders and sign documents from anywhere -- the desktop, Web or mobile devices. YouSendIt offers a suite of productivity tools that integrate seamlessly into common desktop and mobile environments. With YouSendIt, companies can alleviate the burden placed on e-mail systems by offloading attachments, improving performance and productivity and reducing costs and IT security risks. Headquartered in Campbell, Calif., YouSendIt is a privately held company backed by venture capital firms Adams Street Partners, Alloy Ventures, Emergence Capital, Sevin Rosen and Sigma Partners. Visit www.yousendit.com or the YouSendIt Blog for more information.
Media Contacts:
Lori Shen
YouSendIt, Inc.
408-429-7132
Email Contact

Erin Lumley
Trainer Communications
925-271-8229
Email Contact


Copyright @ Marketwire
Page: 1
Related Keywords:
business content collaboration services, YouSendIt, enterprise, Internet,Digital Media Software,Communications,Web,Smart Phone,Security,EMail,Mac,OS9,OSX,Marketwire, Inc., ,IT (Information Technology),Security,Internet Technology,Business,Email,Business Professionals,
---