YouSendIt Claims Fastest-Growing Company Award in Best in Biz Awards 2011
YouSendIt's Growth Recognized by Leading Press and Analysts to Be Deemed Among the Best in American Business
(December 01, 2011)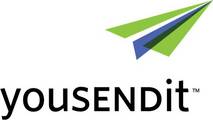 CAMPBELL, CA -- (Marketwire) -- 12/01/11 -- YouSendIt, a leader in business content collaboration services, has been selected as a winner in the Fastest-Growing Company of the Year Award by the Best in Biz Awards, the only national business awards program judged by members of the press and industry analysts. The companies honored with the award represent the best in American business as chosen by an elite panel consisting of media from eWeek, Wired and the Financial Times among others.
"YouSendIt is honored to be recognized by the Best in Biz Awards for our tremendous growth and expansion," said Ivan Koon, CEO, YouSendIt. "Our strategy has always been to become integral to the way people work, and we designed our product to suit the needs of the mobile and hyper-competitive professional. Our recent company growth indicates that we are meeting their needs and that our users continue to trust YouSendIt. We look forward to continue building upon our success in the coming year."
YouSendIt is the first business content collaboration service to offer an integrated approach for sending, sharing, syncing and signing business content across desktops, mobile devices and the web. With more than 23.5 million registered users and 500,000 paid subscribers, an increase of 50 percent since the end of 2010, this has been a year of record growth for the company. The number of enterprises using YouSendIt has continued to grow at an impressive rate, and the introduction of key product features, plus key partnerships, has led to a great year overall for the company. YouSendIt hit several milestones recently, including the introduction of its Microsoft Active Directory integration, which enables enterprise-wide deployments and achieved Silver Unified Communications Competency in the Microsoft Partner Network.
Winners of Best in Biz Awards 2011 were determined by a panel of high-caliber judges from top-tier business and technology publications as well as from analyst firms, including Accounting Today, AllBusiness.com, ECT News Network, eWeek Channel Insider, Financial Times, Fox News, Hartford Business Journal, Insight Media, Kelsey Group, King Features Syndicate, Lab Reviews, Network World, PC Magazine, Portfolio, Puget Sound Business Journal, Tech.Blorge, Tech-Gaming, Techtalk and Wired. The 20 judges on this year's panel boast more than 470 years of combined experience and have written for a total of more than 180 consumer, business, financial, trade and technology publications nationwide.
For a full list of winners in Best in Biz Awards 2011, visit: http://www.bestinbizawards.com/2011-winners.
About YouSendIt
YouSendIt, Inc. is the first business content collaboration service to offer an integrated approach for sending, sharing and signing documents online. With more than 23 million registered users in 193 countries, YouSendIt helps enterprises and business professionals streamline collaboration by enabling them to instantly sync and access content in the cloud and easily send files, share folders, and sign documents from anywhere -- the desktop, web or mobile devices. YouSendIt offers a suite of productivity tools that integrate seamlessly into common desktop and mobile environments. With YouSendIt, companies can alleviate the burden placed on e-mail systems by offloading attachments in the cloud, improving performance and productivity while reducing costs and IT security risks. Headquartered in Campbell, Calif., YouSendIt is a privately held company backed by venture capital firms Adams Street Partners, Alloy Ventures, Emergence Capital, Sevin Rosen and Sigma Partners. Visit http://www.yousendit.com or the YouSendIt Blog for more information.
About Best in Biz Awards
Best in Biz Awards recognizes top companies, teams, executives and products for their business success as judged by established members of the press and industry analysts. Best in Biz Awards honors are conferred in two programs covering the U.S. and EMEA (Europe, Middle East and Africa), respectively. Any organization from any industry in the awards program's region boasting demonstrated success can enter any of the more than 40 company, department or team, executive and product categories. Entries for Best in Biz Awards 2012 EMEA are currently being accepted from all companies based in or operating in Europe, Middle East or Africa, with an early entry deadline of Nov 30, 2011. For more information about the submission process and categories in both the U.S. and EMEA programs, please visit: http://www.bestinbizawards.com.
Media Contacts:
Lori Shen
YouSendIt, Inc.
408-429-7132
Email Contact

Erin Lumley
Trainer Communications
925-271-8229
Email Contact


Copyright @ Marketwire
Page: 1
Related Keywords:
business content collaboration services, YouSendIt, enterprise, bestinbiz, cloud, collaboration, Africa, USA, Marketwire, Inc., , IT (Information Technology), Security, Financial, Internet Technology, Business, middle east, Business Professionals,
---