Yesware(TM) Reveals Research on Email Behavior; Provides Tips for Most Effective and Results-Driven Email Business-to-Business Communication
(January 11, 2012)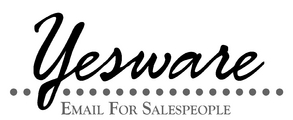 CAMBRIDGE, MA -- (Marketwire) -- 01/11/12 -- Yesware (www.yesware.com), an email productivity service that helps salespeople close deals faster, today announced the results of a study on the effectiveness of business-focused email communication and email open rates. The data was presented this week by Yesware CEO Matthew Bellows at the Inside Sales Conference in Phoenix, AZ, along with advice on how salespeople can be more effective in their business communication.
Yesware studied email behavior of more than 6,000 of its anonymous users during the period of December 8th to 23rd, 2011. Yesware found that the average open rate for sales emails sent via Gmail was 23.9 percent. While this open rate underreports the number of people who actually read these emails, the sample size for this study of 20,000 emails provided sufficient data on ways business email communication can be improved.
Yesware's research findings include:
While most people consider the work week to be the most active time to send and receive email, the data found that more work-related emails were opened on Saturday and Sunday than during the actual work week, proving that sending email over the weekend actually gives it a better chance of getting read.
Response time to prospecting emails is a critical factor in determining success. Yesware found that after an email had been sent, the chances of it being read decreased dramatically after the first hour and then fell incrementally lower from there. After 24 hours, the chance of business email being read is less than one percent. Therefore, salespeople shouldn't wait for more than one day if they want to move the relationship forward.
The longer the email subject line, the less likely it was to be opened. Subject lines longer than three words were opened at below average rates. And while 'short and sweet' is important in business email communication, subject lines that provided a promise to add value, such as 'Boot Camp Marketing Ideas' gave people more motivation to open the messages.
These findings are based on extensive study of almost 20,000 emails, but Yesware advises companies to track individual rates for benchmarking since open rates vary widely between employees. The importance of measuring individual performance as well as team performance with open rate analytics can make a big difference in how new customers and prospects are approached.
"There is no question that email is the most efficient channel for connecting with customers and conducting business," said Matthew Bellows, CEO of Yesware. "This research underscores the need to be more precise and focused in email communication so your emails get read. In addition, by having the means to measure performance across employees and teams, managers can more accurately gauge actual activity and progress."
Based on the data provided by this research, Yesware offers the following tips for increasing email open rates and forging better lines of communication via email:
Send to two people or more - Additional people on the recipient list significantly increases the chances of the email being opened.


Send emails on Friday afternoon and late at night - Business emails are continuously read on the weekends, early in the morning and late at night. Weekend emails offer the best chance for the messages to be opened.


Don't wait for a reply - Since open rates dramatically drop off after the first hour and then progressively after that, emails after 24 hours have little chance of being read.


Only 12 percent of emails are forwarded - Knowing which emails are the most compelling, and which prospects are forwarding your emails, greatly help in targeting efforts.


Don't limit sending emails to business hours - While a lot of email activity occurs during "normal" 9 to 5 business hours, email open rates occur throughout the entire 24-hour day.


Use short subject lines - Pithy, purposeful are ways to entice audiences to open emails. Subject lines longer than three words are opened at below average rates.
The results of this data prove that sales teams and business executives need a better way to communicate, and more importantly, have access to email analytics that make it easy to measure and track the effectiveness of their emails. To read the complete results of this research, please visit:
http://www.yesware.com/blog/2012/01/10/yesware-research-on-sales-email-effectiveness/.
About Yesware
Yesware is an email productivity service that helps salespeople close more business. Integrated into Gmail and mobile devices, Yesware provides email analytics, customizable templates and CRM synchronization to help salespeople communicate with customers more effectively. Yesware was founded by Matthew Bellows, Cashman Andrus and Rajat Bhargava. The company is backed by Google Ventures, Foundry Group, Golden Venture Partners and several angel investors. For more information, please visit: www.yesware.com.
Copyright @ Marketwire
Page: 1
Related Keywords:
Yesware, Sales, Marketing, CRM - Customer Relationship Management, Sales & Marketing, Internet, Sales, Sales, Marketwire, , Business, Email,
---