Yesware(TM) Expands Benefits for Salespeople
Prospect and Goals Tracking, Improved CRM Integration, New Google Maps Integration, Expanded Email Tracking and Reporting Features Help Salespeople Close More Deals Faster; Nearly 20,000 Salespeople Have Selected Yesware to Improve B2B Email Communication
(March 13, 2012)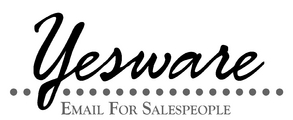 CAMBRIDGE, MA -- (Marketwire) -- 03/13/12 -- Yesware (www.yesware.com) today announced the latest set of features built into its Gmail sales productivity service.
Only six months since its official launch, the company also announced that nearly 20,000 salespeople have signed up with Yesware to improve productivity and email communications.
"Yesware is a great tool for anyone in a marketing/sales role," said Joe Savastano, Digital Media Specialist at Brightcove. "Since my job is to qualify prospects, knowing whether or not they've opened my email is an absolute necessity. When it comes to sales efficiency, Yesware is the most effective tool I've ever used. I can't remember how I ever functioned without it."
"Yesware has really changed the way we do business," said Stephen Klenert, Chief Strategy Officer of Atlantic Metro. "Before Yesware, I could send out 100 emails and not have any feedback or insight into whether those emails were opened and read by my prospects. Now, because of Yesware, I can instantly see if my emails are effective, if the subject line is working, and if not, make immediate changes to increase the chance that they will be read. We're also integrating Yesware with Highrise, our CRM system, so our team can easily see what's going on with all of the customers and prospects we're reaching out to in our activity feed. I've now made Yesware a mandatory plug-in for our team, because it is that useful to our sales efforts."
The newest features of Yesware are:
Prospect Tracking: For salespeople managing 15 to 150 prospects, keeping in touch with top targets is always a struggle. Yesware's Prospect feature helps salespeople remember and track prospects from initial contact through to close. The built-in Won/Lost segmentation helps with post-mortems and deal debriefing.


Goals: Salespeople can easily measure how they are progressing towards their daily, weekly, monthly, quarterly or annual goals. Yesware can automatically track and report on some goals, such as how many emails a user has sent, how many have been opened, how many links have been clicked, and more. In addition, users can set up custom goals like how many calls they've made or how many sales they've closed.


Improved CRM Integration: Yesware now synchronizes emails with most of the leading CRM systems available, including: Salesforce.com, Microsoft Dynamics, Oracle CRM, Pipedrive, Base, SugarCRM, Batchbook, CapsuleCRM and Highrise.


Google Maps Integration: Using Yesware, salespeople can now get a birds-eye view of where their messages are being opened. For finding out where to reach a client, or understanding how an email is forwarded around an organization, Yesware's Google Maps integration provides valuable new insights for salespeople everywhere.


Updated Tracking: Yesware has added more email tracking features to give users additional data on the effectiveness of their communications.

Link Tracking - Users can now track whether the links included in their emails were actually clicked on by the recipient.
Team Tracking - Businesses can now track the number of emails sent and open rates across sales teams to give better insight into how well the team is performing over time as well as comparing individual team members.



Updated Reporting

Priority Messaging Reporting: Yesware users can now sort through all of their email conversations to find the ones that are most actively being read, clicked and forwarded, giving them great insight into the emails that really resonated with their customers.



Updated Sales Templates: In addition to the customizable email templates for every stage of the sales process, Yesware now supports subject lines for email templates to save salespeople even more time when sending out large numbers of messages to customers and prospects.


"Thanks to Yesware, I have now developed procedures for when I see someone opening an email," said Robert Simmons, Senior Sales Consultant of DIRECTV for Bars & Restaurants, National Satellite Center. "I can see Yesware as very easily helping me to close more deals and save deals. Plus, it keeps sales reps motivated and focused through the selling process."
"It's incredibly gratifying to see the statistics and hear the stories from salespeople using Yesware. We've made a decent start towards providing salespeople with a tool that helps them close more deals faster," Matthew Bellows, founder and CEO of Yesware, said. "I'm grateful to our customers for their feedback and encouragement. And I'm very proud of what our small team has been able to accomplish in a short period of time."
Yesware for Gmail is free to individual salespeople at www.yesware.com. Currently, Yesware is only available for Gmail and the Chrome browser. Yesware for Android is available for free via Google Play.
About Yesware
Yesware is an email productivity service that helps salespeople close more business. Integrated into Gmail and Android devices, Yesware provides email analytics, customizable templates, CRM integration and more to help salespeople communicate with customers more effectively. Investors in Yesware include Google Ventures and Foundry Group. For more information, please visit: www.yesware.com.
Add to Digg Bookmark with del.icio.us Add to Newsvine
Copyright @ Marketwire
Page: 1
Related Keywords:
sales productivity, email productivity, sales tools, sales efficiency, email efficiency , Sales, Sales Tools, CRM - Customer Relationship Management, Sales & Marketing, Internet, Business Issues, Sales, Sales, Marketwire, , Restaurants, Business, Email,
---