Yammer Announces Six New Ticker Integrations
Enables Real-Time Social Discovery Across the Connected Enterprise
(November 09, 2011)

SAN FRANCISCO, CA -- (Marketwire) -- 11/09/11 -- Yammer, Inc., the leading provider of enterprise social networks, today announced six new integration partners, delivering on its vision to be a superset of activity streams. Activity stories from these business applications appear in Yammer's new Activity Stream Ticker, a side module on the homepage that constantly streams updates about critical business activity in real-time, empowering co-workers to share and collaborate around dynamic content and operating as a social discovery engine for the enterprise.
New integration partners include:
Badgeville -- The Behavior Platform publishes updates when your colleagues earn rewards defined by the organization that signify great work and collaboration.
Box -- The cloud-based content sharing platform publishes stories notifying coworkers about recent file uploads.
Expensify -- Get employees in the conversation about expense management by broadcasting their timely expense report submissions.
Spigit -- The crowd innovation company publishes new ideas, votes, evaluations and comments, as well as idea graduations.
TripIt -- Helps colleagues keep track of who is in or out of the office, by showing when an employee plans a trip, is about to leave, or is returning from a trip.
Zendesk -- The help desk software publishes ticket updates enabling coworkers to follow the life cycle of a support request.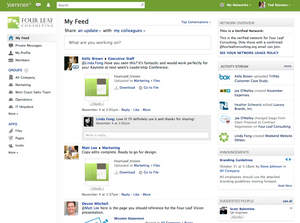 Earlier this year, Yammer announced integrations with NetSuite and Salesforce.com, which are now published in Ticker along with activity stories from Microsoft SharePoint 2010.
"Activity stream integrations fuel a powerful discovery engine that enables important content to go viral within an organization," said David Sacks, CEO of Yammer. "Ticker is an engaging way to highlight these activity stories without cluttering a user's main feed."
The introduction of Ticker represents a fundamental shift away from search toward social discovery. Unlike traditional, intent-based search, Ticker enables employees to find relevant information across the enterprise without deliberately searching for it. In doing so, users gain insights they may otherwise never uncover, yielding benefits such as reduced duplication of work, increased collaboration and more informed decision-making.
All new integration partners used Yammer's Activity Stream API to build their Yammer integrations and will be available by the end of the year.
Partner Comments About the News
"We are proud to partner with Yammer in bringing modern, social experiences to the world's leading enterprises. Behavior management, gamification, and reputation programs work best when they are deployed in a social environment. By publishing the rewards received from our Behavior Platform to the Yammer Ticker, our mutual customers will experience significant growth in the key metrics that define employee collaboration and success."
-- Kris Duggan, CEO, Badgeville
"At Box, we're helping businesses get more value from their information than ever before possible by making it incredibly easy to connect Box content to the other services they're using. Our integration with Yammer ensures that users have immediate access to the latest updates about their Box files, directly from the Yammer Ticker. This is an exciting example of innovation in today's enterprise, where powerful cloud integrations help make organizations more connected, collaborative and productive."
-- Aaron Levie, co-founder and CEO, Box
"The Yammer activity stream was an obvious integration point for us. Expense management is a form of collaborative accounting, and the Yammer Ticker is the easiest way to broadcast this to the whole company."
-- David Barrett, founder and CEO, Expensify
"At Spigit, we're committed to providing our customers with the tools to drive corporate success through innovation and insight discovery. Now, with the Yammer Ticker integration, we're giving our users even greater visibility into the ideas their colleagues are sharing."
-- Paul Pluschkell, CEO, Spigit
"Knowing who's in or out of the office is a decades-old issue for colleagues. Together with Yammer we're bringing 21st century visibility to who's traveling when and where, and it's an ideal environment for collaboration when travel plans overlap."
-- Scott Hintz, co-founder and VP of Business Development, TripIt
About Yammer, Inc.
Yammer (www.yammer.com) is the leader in enterprise social networking, providing a secure way for employees to communicate, collaborate, and share information. The basic version of Yammer is free, and customers can pay to upgrade their network to receive additional administrative and security controls, priority customer service and a designated customer success manager. Companies and organizations across the globe, including more than 80 percent of the Fortune 500, are using our award-winning Software-as-a-Service (SaaS) solution to drive business agility, reduce cycle times and improve employee engagement. Visit our blog to see how our customers are benefiting from Yammer.
Image Available: http://www2.marketwire.com/mw/frame_mw?attachid=1795251

Add to Digg Bookmark with del.icio.us Add to Newsvine
Copyright @ Marketwire
Page: 1
Related Keywords:
Yammer, Facebook, Ticker, Box, Badgeville, Expensify, TripIt, Spigit, Zendesk, Netsuite, SharePoint , Applications, Help-Desk, Security, Networking, Business Issues, Management, Finance/Accounting, CEO/CFO, Finance/Accounting, Marketwire, , Business, Social Networking, Other,
---