Xcellink Signs Agreement With Technology Giant 3i Infotech for iPhone Integration
(November 10, 2009)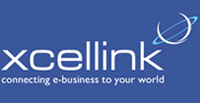 LAS VEGAS, NV -- (Marketwire) -- 11/10/09 -- Xcellink International Inc. (OTCBB: XCEL), a developer of a patented mobile payments & banking platforms, is pleased to announce that is has executed an agreement with 3i Infotech for the development and integration of its patented software with Apple's iPhone technology.
Work will be carried out by 3i Infotech's development team, and it is expected that the new technology will be ready for testing in early January 2010. The board of Xcellink is extremely excited by this relationship due in part to the 3i Infotech Group of Companies, which includes Regulus Group, a subsidiary of the global information technology company 3i Infotech, and one of North America's largest payment processors.
Regulus Group is one of the brightest stars in the payment processing industry providing statement and bill presentment services to clients in the financial services, health care, insurance, telecommunications, and utilities industries. Regulus handles about 2 billion paper and electronic transactions each year.
After the testing has been completed on the iPhone, the next step will be software development and integration for Research in Motion's Blackberry software and also for Nokia smart phones.
There are more than 40 million worldwide owners of the iPhone/iPod Touch platform, over 25 million blackberry subscribers and Nokia, the world's largest maker of smartphones, controlled 45 percent of the market in the second quarter of 2009.
A company spokesman commented, "Xcellink is building out its relationships with major providers of both software development and mobile technologies. Our goal is to have the majority of smart phone technologies integrated with our patented software, and roll out some of our products by year's end."
About 3i Infotech
3i Infotech is a global Information Technology company, which provides technology solutions to over 1,500 customers in more than 50 countries across 5 continents, spanning a range of verticals -- Insurance, Financial Services, and Governments. 3i Infotech was promoted by the NYSE-listed ICICI Bank, India's largest private sector bank. The Company integrates its products and services to create customized solutions to allow you to undertake technology-based business transformation that allows reorganization in line with today's dynamic digital business environment. Please see http://www.3i-infotech.com
About Xcellink
Xcellink International Inc. is a developer of advanced platform-independent customer-centric payment systems and methodologies. Xcellink's patented system has the technical ability to replace all credit, debit, charge and smart cards, providing all functions of order, warehousing, delivery and payment for all types of goods and services in a customer-centric manner that is more efficient, economical, and secure than systems operating today. Xcellink's unique process enables customers, rather than the merchant, to initiate, control and pay for all transactions, without the need for credit cards, in real-time anywhere, anytime, and at a fraction of the cost of current transactions.
Please visit www.xcellink.com
Forward-looking statements in this release are made pursuant to the "safe harbor" provisions of the Private Securities Litigation Reform Act of 1995. Investors are cautioned that such forward-looking statements involve risks and uncertainties, including, without limitation, continued acceptance of mentioned products, increased levels of competition, new products and technological changes, dependence upon third-party suppliers, intellectual property rights, and other risks detailed from time to time in reports filed with the Securities and Exchange Commission.
Investor Relations Contact
Name: Barry Duane
Email: Email Contact
Toll-Free Phone: (866) 953-XCEL (9235)


Copyright @ Marketwire
Page: 1
Related Keywords:
Xcellink International Inc. , Digital Media Software, Communications, Digital Audio, Smart Phone, PDA, iPods, iphone, Insurance, Health Care, Business Issues, Software Development, Methodology, Platforms, Testing, Marketwire, Inc., IT (Information Technology), Software Development, Apple Computer, Financial, Medical, Computer Science, Business, Other,
---