XBRL International Releases Abstract Model
Public Working Draft Released for Comment
(October 26, 2011)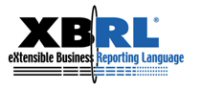 MONTREAL, QUEBEC -- (Marketwire) -- 10/26/11 -- XBRL International (XII) today released the first draft of its Abstract Model at the 23rd XBRL International Conference in Montreal, Canada. The abstract model has been developed by XII's Abstract Modelling Task Force (AMTF) as a means of establishing a common framework for communicating and understanding the XBRL technology. The abstract model provides a conceptual framework for understanding XBRL and gives developers a strong foundation for implementing XBRL solutions.
"The XSB continues to deliver against the strategic plan, including increased comparability, making XBRL easier to use, reducing the barriers to XBRL software development. The public working draft is a key component of that and we encourage market feedback", said XSB Chair Conor O'Kelly.
The XII Abstract Model includes use case diagrams, class diagrams, object diagrams, and sequence diagrams and is a key component of Preserve Promote Participate, the strategic core vision developed by the XBRL Standards Board to continue the momentum of the XBRL standard.
XBRL International (XII) is seeking candidates to assume the leadership role of Chair of the Abstract Modelling Task Force (AMTF). Information on submitting a nomination can be found at http://xbrl.org/news/xii-seeks-nominees-abstract-modeling-task-force.
About XBRL International
XBRL International is a not-for-profit consortium of approximately 650 companies and agencies worldwide working together to build the XBRL language and promote and support its adoption. This collaborative effort began in 1998 and has produced a variety of specifications and taxonomies to support the goal of providing a standard, XML-based language for digitizing business. Projects currently underway in support of the next generation of XBRL include creating an abstract model, development of training materials and the enhancement of data comparability.
Learn more at http://www.xbrl.org.
Contacts:
Media Contact:
XBRL International (XII)
David Nitchman
+1 207 370-1085 (UTC-5)
[email protected]
www.xbrl.org


Copyright @ Marketwire
Page: 1
Related Keywords:
XBRL , Canada,Montreal,Marketwire, ,Computer Science,Business,
---