X1 Pro 7 Now Searches and Archives Facebook, Twitter and Webmail
Desktop Productivity Tool Displays Search Results Across Email, Webmail, Files and Social Media in One Pane
(December 07, 2011)

PASADENA, CA -- (Marketwire) -- 12/07/11 -- X1 Technologies, provider of the desktop productivity application that can instantly locate your information, today announced a free public beta of X1 Pro 7. The newest version of X1 Technologies' flagship product now includes social media and webmail search alongside its "Fast-as-you-Type" search of corporate email and documents on the desktop. With a single query, individuals can locate what they're looking for immediately, whether it's in Outlook, a PowerPoint presentation, Gmail, Facebook or Twitter.
Professionals waste hours of valuable time searching for information and re-creating work. A recent X1 survey found that the average amount of time lost due to searching for emails and files amounts to approximately $9324 per person, per year. As both the volume and pace of communication increases, data is increasingly spread across multiple applications -- from Outlook and webmail, to Twitter and Facebook, to desktops and servers. The survey also found that 40 percent of professionals said that they now use social media for business. However, the real-time nature of social media makes it difficult to go back and locate information from weeks or months ago. X1 can now help users find information from personal or corporate social media streams whenever they need it.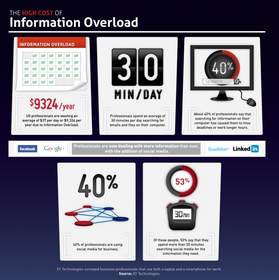 "X1 was founded with the distinct purpose of helping individuals search the information closest and most important to them," said Kevin Bray, President of X1 Technologies. "The amount of such information has not only exploded, it now resides in an increasing number of places. With its integration of webmail and social media sources, X1 Pro 7 represents a significant step forward in helping people find the information they need, instantly, regardless of where it exists."
X1 Pro 7 helps users find and easily manage their email and social media content. Product highlights include:
Social Media Integration: No other solution has the ability to archive, index and search content from Facebook and Twitter streams and present aggregate results seamlessly on the desktop
Webmail Search: In addition to indexing Outlook, Lotus Notes and local files, X1 Pro 7 searches and indexes Gmail, Yahoo! Mail and AOL Mail accounts
Now includes 64-bit support for Microsoft Outlook
Archiving of Tweets: Ability to index and store up to 5 million tweets
Link Preview Pane: Eliminates clicks within social streams by displaying a preview of links in an adjacent preview pane
Linked Content Search: Indexes and searches against the content behind links in Facebook and Twitter posts
Enhanced Indexing Engine: Ensures that users can find emails and files faster than ever
Redesigned user interface: Provides a more intuitive, streamlined experience
"I've been a devoted X1 user since its inception, and I see the benefits of using X1 as a productivity tool on a daily basis. I have X1 open automatically when I start up Windows and it assists me throughout my work day. It is as important to my work practices as a word processor, an email program and a browser," said Professor Elliot Soloway, Department of EECS, College of Engineering at the University of Michigan. "My email program's search doesn't hold a candle to X1's search. I save an enormous amount of time in finding files and emails, and now I can reap the same benefits with webmail and social media search! I totally recommend X1 for anyone who wants to find digital information quickly, whether it's on their local computer, in their webmail or in their social network."
Pricing and Availability
A public beta of X1 Pro 7 is available today as a free download. The official version will be available in Q1 2012 for $49.95.
About X1 Technologies
X1 Technologies, headquartered in Pasadena, California, is devoted to instantly connecting people to the right information. X1 can locate information on the desktop or in corporate email, webmail or social networks as fast as the user can type, and aggregate it in a single, easy-to-use interface. As the quickest access point to all information, X1 empowers both individuals and businesses to be more productive.
Image Available: http://www2.marketwire.com/mw/frame_mw?attachid=1824098

Heather Edell
H3O Communications
(415) 618-8814
Email Contact


Copyright @ Marketwire
Page: 1
Related Keywords:
X1 pro 7, x1 technologies, search, social media, webmail, gmail, twitter, facebook, outlook, beta, Applications, Productivity Applications, Internet, Other Applications, Engineering/Scientific Software, Social Media, Search, Internet Server Applications, Search Engines, E-mail, Search Servers, Marketwire, , Business, Email, Other,
---