WizIQ Wins the Jury-Award for 'Best Virtual Classroom Provider' in the Global e-Learning Awards 2012
(July 05, 2012)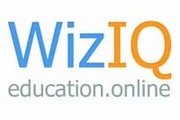 MOHALI, INDIA and BOSTON, MA -- (Marketwire) -- 07/05/12 -- The World Education Congress (WEC) organized the Global e-Learning Awards 2012, on June 29, 2012 in Mumbai, where WizIQ was announced as the 'Best Virtual Classroom Provider'.
This international convention on E-learning consisted of formal presentations, panel debates, round tables and personal meetings for exchange of ideas and opportunities within the realm of growing conventional & e-Learning markets worldwide.
Top policy makers, educationists and corporate honchos participated at this Congress.
The awards were the integral part of the event, aiming to recognize the most successful and innovative applications in the delivery of Education and Training.
WizIQ came into the education market in 2006 as a low-cost virtual classroom platform that connects teachers and learners from across the world. Using WizIQ Virtual Classroom, an educator can provide learning opportunities to all participating attendees. All attendees need is a web connection.
The WizIQ Virtual Classroom is browser-based, does not require downloads or cumbersome client software, and allows teachers to deliver live sessions, where they can share presentations, PDFs, virtual whiteboards, voice, video, and even their desktops over the Internet, in real time. Hands off Audio-Video, whiteboard, and desktop sharing controls can be passed to users to increase engagement or respond to questions posed via integrated chat.
WizIQ is quickly progressing towards making the WizIQ Virtual Classroom available on mobile devices like mobile phones, iPhones, iPads, and tablets.
All of these innovations on trends on WizIQ are believed to have contributed in winning this prestigious, jury-based award.
During the convention, WizIQ showcased the series of Classes, Courses Webinars and WizIQ Conversations that are conducted in virtual classrooms, making online learning easier for everyone; it's not wonder that WizIQ won the award, 'Best Virtual Classroom Provider'.
About WizIQ
WizIQ is an online education company with an office in Boston, MA. WizIQ's software makes online teaching easier and affordable for education service providers including trainers, tutors, training academies, colleges and universities. Members can create courses, give live classes in the virtual classroom and interact with students. WizIQ is trusted by over 200,000 trainers and educators worldwide to deliver their online courses.
Media, Press, Advertising, & Marketing Inquiries:

Email: pr@wiziq.com

Sales Inquiries:
Email: sales@wiziq.com


Copyright @ Marketwire
Page: 1
Related Keywords:
virtual classroom, e-learning, online tutoring, Global e-Learning Awards, Internet, Digital Media Software, Web, Applications, Training, Video, Pro AV, Presentors, Internet/Web, Internet, Web, Business Issues, Presentation, Marketing, Corporate/Company, Training, Advertising, Awards, India, Marketwire, Internet Technology, Internet, india, Teachers,
---