Wireless Generation's mCLASS(R) Beacon(TM) Assessment System Wins EdTech Digest Best New Product Award for AP Science Initiative
(April 11, 2012)

BROOKLYN, NY -- (Marketwire) -- 04/11/12 -- Wireless Generation's new mCLASS® Beacon™ assessment system, which enables teachers to visualize students' progress and mastery of standards, received multiple "Cool Tools" Awards from EdTech Digest, including top honors in the New Product category for 2012.
The winning product is a version of mCLASS Beacon customized to help high-need Advanced Placement Biology students reach their full potential and address an achievement gap prevalent in advanced level courses. This assessment tool is being piloted in 39 schools in Florida and Texas as part of an innovative collaboration with the College Board to broaden student access to AP classes and heighten student performance on AP Exams.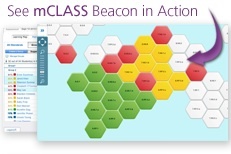 Wireless Generation's mCLASS Beacon formative assessment system uses an interactive Learning Map comprised of a series of honeycombs, with each hexagonal shape representing a specific standard, which allows educators to see the student's progress along a trajectory and swiftly adapt to their academic needs with targeted instruction. They can zoom to see class or student performance at a glance and can link directly to tools that support next steps.
Rather than only look at students' mastery of AP biology through standardized testing, educators will use this tool throughout the school year to receive immediate feedback on a student's comprehension of specific scientific concepts. They can identify effective instruction, adapt their teaching strategies and help high-need students meet important academic benchmarks as their school year progresses. With this tool, teachers can identify a student's academic challenges and take personalized, constructive steps to help them keep pace with the rigors of AP coursework.
In its annual awards program, online magazine EdTech Digest also named the new science assessment tool as a Finalist in the Collaboration Solution category and it honored mCLASS Beacon's K-12 platform that can be used for math, language arts, science and more, as a Finalist in the District Data Solution, and Assessment Solution categories.
Josh Reibel, President of Wireless Generation, said, "It's especially gratifying to earn this recognition for mCLASS Beacon because we're confident its interactive Learning Map is a truly ground-breaking approach to helping teachers do their best work. They can see important patterns and individual benchmarks and then tailor instruction during the year."
"Our thanks go to EdTech's judges that could envision the incredible potential 'Beacon' holds," said Reibel, adding, "we're also proud to be working with the College Board in developing tools for teaching advanced level courses and building an important pathway forward for young people who have confronted obstacles to learning."
Commenting on the awards, EdTech Digest Editor-in-Chief Victor Rivero said, "Behind the quality products and services, the apps and platforms, the content and clicks -- are real leaders in the space who are under no illusion as to what it takes to get things done."
About Wireless Generation
Wireless Generation is an education company that harnesses technology to help teachers teach with excellence. Founded in 2000, the company provides educational software, such as assessment tools, adaptive curriculum for individualized instruction and large-scale data systems, as well as consulting services to support teachers' expertise and school improvement. Wireless Generation's innovative tools help teachers meet individual student's needs and benefit more than 200,000 educators and 3 million children in schools and districts in all 50 states. More information is available at wirelessgeneration.com.
Image Available: http://www2.marketwire.com/mw/frame_mw?attachid=1942940

Contact:
Joan Lebow
Email Contact
212.796.2207


Copyright @ Marketwire
Page: 1
Related Keywords:
formative assessment, learning map, assessment solution, individualized instruction, wireless generation, Marketwire, ,Science,Children,Teachers,
---