WingTip, Canary Labs and Kepware Introduce the hBOX Wireless Historian
The First Low Cost, High Performance, Store and Forward Historian Appliance
(November 15, 2011)
RICHLAND, WA and PORTLAND, ME -- (Marketwire) -- 11/15/11 -- WingTip LLC, in combination with Canary Labs and Kepware Technologies, today introduced the hBOX, a wireless severe duty historian appliance. The hBOX is the first product on the market to combine low cost with enterprise class historian performance in a ready to use appliance. A member of the PlantMESH™ 802.11b/g/n Ethernet wireless mesh network system, the hBOX is ready for outdoor or indoor use.
The primary goal in developing the hBOX was to provide an operational historian appliance that could be located directly adjacent to the equipment being monitored, rather than using a centralized historian that attempts to capture data over a remote Wide Area Network (WAN) connection, according to David McKay, WingTip Director of PlantMESH Product Development.
"Most of the geographically distributed industries, such as PetroChem, Mining and Utilities, need to collect data from remotely located equipment. In many cases, the connection to the remotely connected equipment is bandwidth limited and can have reliability issues," McKay said. Ideally, data loss could be eradicated by collecting the data locally, then synchronizing the data to the central historian, a scenario also known as 'Store and Forward' data collection.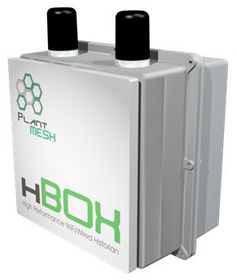 "The hBOX provides a simple solution to Store and Forward needs, you just locate the hBOX near your remote equipment, collect the data, and on routine intervals that match the needs of your WAN, synchronize the historian to a centralized hBOX," McKay explained. "Unlike raw data collection, where historical data can be lost if the connection is broken or simply too slow, the hBOX automatically makes sure the full synchronization completes, and retries as necessary."
Central to the hBOX's enterprise class performance is a highly optimized special edition of Canary Labs award winning historian solution.
"The hBOX from WingTip is the ideal industrial appliance. Its unique design allows it to become a member of your enterprise mesh network for capturing and managing process data. It highlights our philosophy that data collection should just work without requiring complex hardware and software configurations. The hBOX will improve the quality and consistency of data from a customer's processes, provide rapid deployment and easy integration with the process devices," said Gary Stern, President of Canary Labs.
In stress testing, the hBOX collected 30,000 tags at a 0.1 second update rate, for a total of more than 260,000 updates per second and 1.22 Gb of data per hour. There are very few industrial facilities whose data collection needs won't fall well within the performance window of a standalone hBOX.
The hBOX needed communication drivers for industrial devices, and WingTip turned to Kepware Technologies to provide the most comprehensive solution on the market. "WingTip has built a unique solution to ensure the high reliability of data collection and storage for markets where regulatory concerns are of great importance," states Tony Paine, President and CEO of Kepware Technologies. "We are pleased to have been chosen as the communications provider for the hBOX platform."
In addition to the store and forward scenario, the hBOX can function as the sole plant historian for a customer's facility, at a breakthrough price point. The hBOX is a fully functioning member of the PlantMESH product family, and has both wired and wireless models. Unlike a typical historian solution, there is no other hardware needed, you simply purchase the appliance and start collecting data.
"At a starting cost under $3,900 for a complete historian solution, it will be difficult for the traditional historian solutions to compete, considering a price delta that starts at $10,000," McKay added. "In addition, simply by adding PlantMESH nodes, just about any equipment can be wirelessly attached for data collection, allowing the customer to deploy full data collection solutions at a fraction of the cost."
For more information on the hBOX and PlantMESH™, please visit http://plantmesh.com.
About WingTip
WingTip LLC, founded in 2006, provides best-of-breed solutions for plant wireless networking and security, real time performance improvement, smart grid, and automation device change management. All of WingTip's hardware products are designed for harsh environments, and WingTip provides the technical expertise to achieve even the most ambitious customer goals. For more information visit: www.wingtipllc.com.
About Kepware Technologies
Kepware Technologies, established in 1995, develops a wide range of communication and interoperability software solutions for the Automation industry. Our flexible and scalable solutions are for connecting, managing, monitoring, and controlling diverse automation devices and software applications. Our industry endorsed software solutions improve operations and decision-making throughout all levels of an organization. Kepware Technologies' mission is to be "Your Standard for Connectivity." For more information, visit: www.kepware.com.
About Canary Labs:
Since 1985, Canary Labs has been focused on delivering best in class historian trending tools and solutions on a global scale. Our client base has grown to over 12,000 implementations in over 26 countries around the world. We believe our success is driven by focus on developing solutions from the end user's perspective, with scale in mind. For more information visit: www.canarylabs.com.
Image Available: http://www2.marketwire.com/mw/frame_mw?attachid=1799084

Add to Digg Bookmark with del.icio.us Add to Newsvine
Editors
For additional information please contact:
David McKay
Director of Business Development
Phone: +1 (509) 378-2601
Email: Email Contact

Erik Dellinger
Kepware Technologies
Phone: +1 (207)-775-1660
Email: Email Contact

Valerie Harding
Ripple Effect Communications
Phone: +1 (617)-536-8887
Email: Email Contact


Copyright @ Marketwire
Page: 1
Related Keywords:
Kepware, Office Equipment,Applications,Storage,Security,Networking,Business Issues,Hardware,Software,Misc,Security,Connectivity,Wireless,Ethernet,Management,CEO/CFO,Marketwire, ,Business,Family,Other,
---