WinZip(R) 15 Delivers Faster and Easier Zipping
WinZip Sets New Standard for Speed and User Experience Excellence
(December 01, 2010)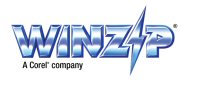 MANSFIELD, CONNECTICUT -- (Marketwire) -- 12/01/10 -- Editors note: Four images are included with this press release on Marketwire's website.
WinZip Computing, a Corel Company, introduces WinZip® 15, the latest version of its world-leading file compression, encryption, and Zip email attachment optimization software for Windows®. With the power of the all-new WinZip Zip engine under the hood, WinZip 15 offers increased speed and performance, a further streamlined 'ribbon-style' user interface, a new desktop gadget for easy access, as well as Zip and E-mail functionality that integrates directly with Microsoft® Outlook® and leading webmail systems. With these new enhancements, WinZip is faster and easier to use than ever.
Usability Breakthroughs Make it Easy to Integrate WinZip® 15 into Everyone's Workflow
-- Unique Desktop Gadget gives instant access to key WinZip tasks with drag and drop functionality -- Further refined 'ribbon-style' menu designs and more intuitive icons - all built for ease of use -- Innovative Zip and E-mail features make it effortless to share Zip files, offer easy integration with Microsoft Outlook and popular webmail systems, and provide advanced options such as 'best method' compression, file encryption, and automatic image resizing -- Enhanced backup email support now allows backup files and log files to be sent automatically upon backup job completion from virtually any email or webmail address (available in the Pro version only)
"We know that organizations will get the maximum benefit from compression and encryption if it's delivered through a tool that fits seamlessly into people's everyday activities. Zipping files shouldn't be something that you have to figure out or interrupts your work. WinZip 15 is designed for any business that wants to ensure every employee is realizing the advantages of compressed and secure data," said Patrick Nichols, President of WinZip.
All-New WinZip Engine Powers Next Generation of WinZip® Products
WinZip 15 incorporates a new zip architecture that offers performance advancements while giving WinZip the flexibility to deliver all-new product offerings to improve Zip file creation and sharing on and across multiple platforms. Now incorporated into WinZip 15 for Windows (Standard and Pro versions) as well as the recently-released WinZip Mac Edition, this new technology will also serve as the foundation for WinZip's upcoming mobile products for iPhone®, iPad®, and Android®, planned for early 2011.
"By re-designing the WinZip compression and encryption engine, we're able to deliver the power of WinZip in unique new products to serve customers on new platforms. WinZip is starting the next chapter in its role as the industry's standard for zip software by extending our line-up with new tools for Windows, the Mac and mobile," added Nichols.
Pricing and Availability
Supporting Windows® XP, Windows Vista® and Windows® 7, WinZip 15 is available now in both a Standard and Pro version direct from www.winzip.com. North American suggested retail pricing is US $29.95 for Standard and US $49.95 for Pro. Volume license discounts are available.
For more information about WinZip 15 Standard and WinZip 15 Pro, including a feature comparison between versions, please visit www.winzip.com.
About WinZip Computing
Since its introduction in 1991, WinZip Computing has been recognized as the world's leading provider of file compression technology. Acquired by Corel Corporation in 2006, WinZip Computing offers the world's most popular Zip utility, WinZip®, along with WinZip® Courier™ and WinZip® Self-Extractor.
© 2010 WinZip Computing SL. All rights reserved. Corel, Courier and WinZip are trademarks or registered trademarks of Corel Corporation and/or its subsidiaries. All other product names and any registered and unregistered trademarks mentioned are used for identification purposes only and remain the exclusive property of their respective owners.
To view the image of the WinZip 15 box shot, please visit the following link: http://www.marketwire.com/library/20101201-WinZip15_Box_800.JPG
To view the image of the WinZip 15 user interface, please visit the following link: http://www.marketwire.com/library/20101201-WinZip_15_Interface_800.JPG
To view the image of WinZip 15 Outlook integration, please visit the following link: http://www.marketwire.com/library/20101201-WinZip_15_Email_800.JPG
To view the image of the WinZip 15 logo, please visit the following link:http://www.marketwire.com/library/20101201-WinZip_15_logo_800.JPG
Add to Digg Bookmark with del.icio.us Add to Newsvine
Contacts:
Corel
Jessica Gould
613-728-0826 ext. 5405
Jessica.Gould@corel.com


Copyright @ Marketwire
Page: 1
Related Keywords:
Corel, email attachments, sending files, WinZip, WinZip Mac Edition, zip email attachments, Mac, OS9, OSX, Marketwire, Business, Email, Other,
---