Wi3's Patented Technology Solves Problem of In-Home Network Buffering; Allows Multi-Device Streaming and Web Access
(January 05, 2012)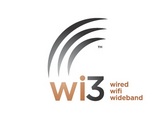 ROCHESTER, NY -- (Marketwire) -- 01/05/12 -- Wi3, an International CES Innovations 2012 Design and Engineering Award winner, today announced its immediate compatibility and availability with AppleTV, Roku, GoogleTV, gaming consoles and IPTVs. Without disrupting any existing Cable TV or Satellite services, Wi3's easy to install two-port Ethernet sleeve and cartridge networking product utilizes the existing COAX cable already in the walls of tens of millions of homes and commercial properties to provide a robust Ethernet connection directly to each device for maximum performance.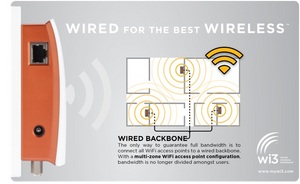 "Millions of AppleTVs, Roku, GoogleTV, XBOX360s, PS3s and IPTVs have been sold as holiday presents," said CEO Bill Thompson. "However, many households are finding out that once they get them home and connect them to their wireless network they aren't getting a strong enough signal to get movies, music and other content streaming buffer-free. Our networking device helps them retrofit their home for a fast, easy and reliable Ethernet connection to avoid frustrating buffering issues or a complete network loss in the middle of their programming, gaming or streaming."
Many factors influence the quality of a wireless signal throughout a home or commercial environment, including the types and depth of wall construction, distance, competing neighbor or local wireless router signals and the big killer, multiple tablets, phones and devices taxing the signal itself. Wi3's products sidestep these problems by providing an Ethernet connection directly to each device in rooms that support a COAX connection. The company's soon-to-be launched WiFi cartridge solution will provide not only an Ethernet connection to every COAX room, but also a dedicated Access Point to the same room allowing for the best "Wired for Wireless™" throughout the environment and help eliminate wireless dead zones encountered today.
To learn more about the Wi3 platform, visit http://www.mywi3.com.
About Wi3, Inc
A Rochester, NY based company established in 2008, Wi3 Inc is a multiple award winning leader in innovative home and commercial networking solutions with its MoCA based patented products. Its products include 2-port ethernet, WiFi, HMDI, thin client and energy management solutions as part of the company's sleeve and cartridge system, allowing for retrofitting installations, backwards compatibility and an easy to upgrade platform. The name Wi3 is derived from its three core technologies -- Wired, Wireless, Wideband. www.mywi3.com/
Image Available: http://www2.marketwire.com/mw/frame_mw?attachid=1846986

Tiffany Iwankiw
Max Borges Agency
305-374-4404 x140
[email protected]


Copyright @ Marketwire
Page: 1
Related Keywords:
Wi3, Networking,Internet,Management,CEO/CFO,Broadcast,Management,Streaming,Programming,Authoring/Programming,Internet Media,Marketwire, ,CES Attendees,Television,Music,Communications Technology,Internet Technology,Other,
---