WhitePages Launches Hiya to Make Managing Contacts Easier
Mobile and Web Contact Management Solution Automatically Fills in Missing Contact Data With WhitePages People Search Database of 200 Million Listings and Delivers First Location-Aware Mobile Address Book
(March 10, 2011)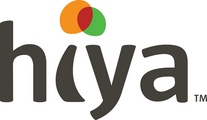 SEATTLE, WA -- (Marketwire) -- 03/10/11 -- WhitePages (www.whitepages.com) today announced the public beta of Hiya (www.hiya.com), a new free mobile and web contact management service designed to bring address books into the 21st century. Offering an iPhone app and an intuitive Web service that effortlessly completes iPhone and Gmail contacts with listings from the WhitePages directory, only Hiya makes it dead simple for consumers to take complete control over keeping their contacts current, complete and free of duplicates. Without requiring them to register, Hiya makes it easy for friends to update their own contact information, and automatically keeps contacts updated by tapping into WhitePages database of 200M listings to fill in missing contact data like phone numbers and mailing addresses. With the Hiya iPhone app, now available in the iTunes App Store, users can get all of their contacts where they need them most -- their phone -- and can take advantage of the first location-aware mobile address book.
"While there are many online address book options out there, consumers still experience the day-to-day pain of fragmented, incomplete and out-of-date contact information," said Alex Algard, CEO at WhitePages. "With Hiya, we're providing an easy and safe way for people to combine their contacts that are scattered around the Web, on their mobile phones, in a rolodex, and on their computers into one duplicate free and complete master mobile and web list. This is a solution that everyone from college students to grandparents will love."
People's Address Books Need Serious Help
A February 2011 survey conducted by Harris Interactive on behalf of WhitePages discovered that 94 percent of U.S. adults store contact information for friends, colleagues and family. Among those respondents, the main method of storing contact information is mobile phones (39 percent), paper address books/Rolodexes (30 percent), email systems (22 percent), documents saved on their computer (8 percent), and online services like Plaxo (1 percent). However, there are obvious inefficiencies in how people store that contact information with 63 percent of the respondents indicating that the current state of their personal contacts could use updating or needs serious help.
In fact, only 41 percent of respondents who store information for personal contacts said their main method was organized, with 20 percent going so far as to say that their contacts were incomplete, out of date, messy or disjointed. The biggest problems people have with managing their contacts is keeping information up-to-date (48 percent) and compiling missing data (19 percent), followed by keeping contacts all in one place (17 percent). The pieces of information most frequently missing from people's main methods of storing contact data were physical addresses (40 percent) and birthdates (45 percent). Furthermore, 50 percent of those who store personal contact information indicated that they have duplicate contacts.
Hiya Finally Makes Managing Contacts Easy
Hiya is a natural extension of WhitePages commitment to help over 20 million users every month find the contact information they need to build invite lists for weddings and birthdays, send thank you and holiday cards, verify contact information and reach businesses. Focused on simplifying contact management, Hiya makes it easy to store, manage and access personal contact information from anywhere, knowing that contacts are always safe, regardless of whether a user's phone gets lost or they switch carriers. Anyone can set Hiya up in minutes using their iPhone or on the Web. From there, users can immediately start freshening up their old address books with up-to-date information from friends, family and colleagues, in addition to WhitePages extensive database, to correct, add or fill in missing and out-of-date contact information. Recipients who receive requests don't have to register -- they just click the email link, edit their info, and hit submit.
Using the iPhone app's location-aware "Who's Nearby" feature, Hiya allows people to see which contacts live or work nearby based on their mailing address, without needing to "friend" or opt-into social networks. For example, if a user is traveling on a business trip they can simply check their Hiya iPhone app anytime to see the exact distance of contacts that live or work nearby. This makes it easy for users to arrange to meet up with an old friend or colleague should they have time to kill in between meetings.
How it Works
To get started, users can register by going to www.hiya.com or by downloading the Hiya iPhone app to immediately start importing their contacts. Next, Hiya will instantly identify duplicate contacts using more than 15 different match categories, including nicknames, misspellings, and email usernames. Suggested duplicates can then be easily merged and removed. Hiya then showcases what percent of people's contacts contain at least one phone, address, email, and/or birthday with its "Complete-O-Meter," which makes it easy for users to pick and choose who they want to send their requests for additional information. Finally, Hiya will scour WhitePages people search contact database, which includes public listings for more than 90 percent of American adults, to populate contacts with available addresses and phone numbers of close and long-lost acquaintances. From then on, users will receive automatic updates when any contact information changes and can easily view, edit, manually merge, and print mailing labels. Hiya users can also add anyone listed in WhitePages people search database directly into Hiya with the click of a mouse. Users simply go to www.whitepages.com, find who they are looking for and click "add to my Hiya contacts." The complete listing will then immediately be uploaded into their Hiya contact list. Both Hiya's web and mobile apps provide users complete control over whether they want 1- or 2-way sync between sources, or the option to not sync at all.
Hiya will support Yahoo!, Facebook, Windows Live, LinkedIn, CSV files and more in the coming months with support for Outlook, Android and BlackBerry coming later this year. Until then, non-iPhone or Google users can simply create a Google account and upload their contacts into Google contacts to experience all the benefits of Hiya's web service. Click to a demonstration of the Hiya iPhone app or the Hiya Web Service. Screenshots are available for download at http://flickr.com/gp/whitepages/k7Y400.
Survey Methodology
The survey was conducted online within the United States by Harris Interactive on behalf of WhitePages from February 28 - March 2, 2011 among 2,049 adults ages 18 and older, 1,929 of whom store information for personal contacts. This online survey is not based on a probability sample and therefore no estimate of theoretical sampling error can be calculated. For complete survey methodology, including weighting variables, please contact Michele Mehl or Deanna Leung Madden.
About Harris Interactive
Harris Interactive is one of the world's leading custom market research firms, leveraging research, technology, and business acumen to transform relevant insight into actionable foresight. Known widely for the Harris Poll and for pioneering innovative research methodologies, Harris offers expertise in a wide range of industries including healthcare, technology, public affairs, energy, telecommunications, financial services, insurance, media, retail, restaurant, and consumer package goods. Serving clients in over 215 countries and territories through our North American, European, and Asian offices and a network of independent market research firms, Harris specializes in delivering research solutions that help us -- and our clients -- stay ahead of what's next. For more information, please visit www.harrisinteractive.com.
About WhitePages
WhitePages is the leading provider of contact information for people and businesses in the U.S. With over 20 million unique monthly users and powering over 2 billion searches on over 1,500 sites including MSN and the United States Postal Service, only WhitePages offers consumers one-click access to more than 200 million adults, also providing them with the ability to edit and control their own listings. The company's suite of mobile products includes a top-50 mobile website and popular iPhone, Android, and BlackBerry applications that have been downloaded more than 7 million times. WhitePages' social buying website DealPop offers deals on local businesses around the U.S., at up to 70 percent off retail prices.
For more information, please visit www.whitepages.com, www.dealpop.com or check out the WhitePages blog at blog.whitepages.com.
WhitePages and their respective logos are trademarks, registered trademarks, or service marks of WhitePages. Other products and company names mentioned are the trademarks of their respective owners.
Embedded Video Available: http://www2.marketwire.com/mw/frame_mw?attachid=1539655
Image Available: http://www2.marketwire.com/mw/frame_mw?attachid=1539642
Embedded Video Available: http://www2.marketwire.com/mw/frame_mw?attachid=1539643
Image Available: http://www2.marketwire.com/mw/frame_mw?attachid=1539659

Add to Digg Bookmark with del.icio.us Add to Newsvine
Media Contacts:
Michele Mehl
Buzz Builders for WhitePages
425-205-9444
[email protected]

Deanna Leung Madden
Buzz Builders for WhitePages
206-915-0512
[email protected]


Copyright @ Marketwire
Page: 1
Related Keywords:
online address book, mobile contact management, mobile address book, web contact management, plaxo, Family, Internet, Adults, Family, Communications, Digital Audio, Web, PDA, iPods, iphone, Search, Applications, Family, Research, Video, Google, Blogs/videoblogs, EMail, USA, Marketwire, Apple Computer, healthcare, Financial, Internet Technology, Business, Email, Adults, Family, College Students, Other,
---