"Where's Jarry?" -- Bowers Museum Brings Back the Real-Life Terra Cotta Warrior That Has Intrigued Audiences Across the World
(November 02, 2011)

SANTA ANA, CA -- (Marketwire) -- 11/02/11 -- It's a statue! It's a robot! No, it's Jarry the Terra Cotta Warrior! Back by popular demand, all the way from Taiwan, China, Jarry has set his sights on Southern California's most popular destinations (before settling permanently at the Bowers Museum in Santa Ana, CA until March 2012. ) You may remember spotting Jarry back in 2008 when the Bowers Museum hosted their record breaking exhibition, Terra Cotta Warriors: Guardians of China's First Emperor. He now joins us again as an extension of the new, sequel exhibit, Warriors, Tombs and Temples: China's Enduring Legacy.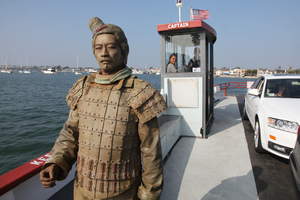 From now until Christmas, Jarry will navigate his way through the heart of the Golden State, trying to make his way home to the Bowers. To aid Jarry in his journey, we are asking for your help in finding where Jarry is and if he's getting closer to his final destination.
"Where's Jarry?" will kick off next week. Every Tuesday a picture will be released on Facebook and Twitter of Jarry in an unsuspecting location. The first to correctly submit his whereabouts will receive free admission to the Bowers' new, breathtaking exhibit, Warriors, Tombs and Temples: China's Enduring Legacy. And if that isn't enough incentive, check out this sneak-peak (http://www.youtube.com/watch?v=qKHQF_F8Y1s) of Jarry's journey.
Known as a gentle Warrior, Jarry loves mugging for the camera and if you just happen to stumble upon him don't be shy to snap a picture! But if you don't want to miss your chance at spotting Jarry, see him every day at the Bowers until March 4, 2012 when he heads off to his last stop in the United States, Houston Museum of Natural Sciences.
When you do visit Jarry at the museum, check out the real Warriors, including the only warrior with a face painted green. Also on display are sacred relics including a set of four precious stone and metal reliquary boxes, the innermost of which held the finger bone relic of the historic Buddha, which is displayed for the first time outside of China
The Bowers Museum
Bowers Museum, in Santa Ana, is centrally located in the heart of Southern California. The Bowers Museum has earned an international reputation through its world-class exhibitions, including Terra Cotta Warriors: Guardians of China's First Emperor, Secrets of the Silk Road, and Mummies -- Death and the Afterlife: Treasures from the British Museum, as well as its own extensive Art collections from throughout the Americas and the South Pacific. In addition, the Bowers' Kidseum, located one block south of the main museum, engages children through extensive activities designed to encourage creativity and inspire imagination.
Image Available: http://www2.marketwire.com/mw/frame_mw?attachid=1787369

MEDIA CONTACT:
Amanda Munoz-Temple
714-567-3642
amtemple@bowers.org


Copyright @ Marketwire
Page: 1
Related Keywords:
Bowers Museum, USA, China, Taiwan, Marketwire, , china, Children,
---