West Virginia University Implements Digital Ticketing and Renews Partnership With Paciolan
(October 19, 2011)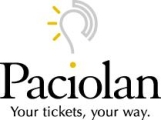 IRVINE, CA and MORGANTOWN, WV -- (Marketwire) -- 10/19/11 -- Paciolan, the leading provider of ticketing, marketing, and fundraising solutions in college athletics, announced today that West Virginia University ("WVU") has renewed its partnership with the company. With the agreement, WVU will be implementing Paciolan's Access Management and digital ticketing solutions for basketball in 2011-12 and football in 2012. WVU has been working with Paciolan since 1983.
"We're excited to extend our very beneficial 28-year relationship with Paciolan," said Matt Wells, sports marketing director for West Virginia University. "Adding digital ticketing to our athletics initiatives will help us continue to accomplish our goals and offer enhanced customer services to West Virginia fans."
By implementing Paciolan's Access Management scanning and digital ticketing solutions, Mountaineer fans will be able to print their tickets at home and avoid long will call lines to pick up tickets. Additionally, WVU athletics can learn who attended which games, identify which tickets were unused and by whom, and then tailor marketing messages and offers to these fans based on their attendance patterns. This detailed information helps fill the venues at each game. In the future, WVU plans to offer fans the ability to transfer tickets to family and friends as well.
Working closely with its assigned client partner, WVU has also been able to implement best practices for its online ticket sales initiatives. By implementing leading ecommerce strategies, WVU has been aggressively increasing football online season ticket renewals and single game ticket sales.
"Working alongside Paciolan's client partner and ecommerce specialist, as well as our Ticket Manager for Athletics, Debby Travinski, we've developed impactful programs and enhanced the online buying experience," added Wells.
Leveraging Paciolan's social media tool, Pac Social Media, WVU has been able to connect with fans, promote events and special offers, and sell more tickets on Facebook.com. To date, WVU has grown its Facebook fans to over 151,000.
"We look forward to continuing our 28-year relationship with WVU," said Dave Butler, chief executive officer of Paciolan. "By leveraging our industry-leading eCommerce and digital ticketing solutions, WVU will continue to provide the most convenient ticketing services to its fans and accomplish its goals for online season ticket renewals and single ticket purchases."
About Paciolan
Founded in 1980, Paciolan is the leader in venue enablement, powering ticketing, fundraising and marketing technology solutions for leading organizations across North America. Collectively, Paciolan powers over 500 live entertainment organizations that sell over 100 million tickets annually. Primary markets include college athletics, professional sports, performing arts, arenas and museums. Paciolan is a wholly owned subsidiary of Comcast-Spectacor.
Visit www.paciolan.com for additional company information.
Add to Digg Bookmark with del.icio.us Add to Newsvine
Copyright @ Marketwire
Page: 1
Related Keywords:
Paciolan, Marketwire,unused, ,Sports,Entertainment,Sports,Basketball,Family,
---