WeeWorld Launches WeeMee Life App for iPad(TM)
WeeWorld Partners With Moblyng to Launch New App in HTML5 That Brings the Fun, Simple and Addictive Appeal of the WeeMee to More Platforms
(April 19, 2011)

NEW YORK, NY -- (Marketwire) -- 04/19/11 -- Building on the success of its WeeMee brand, top social gaming company WeeWorld today announced that its new app for iPad™, WeeMee Life, is available in the App Store. WeeWorld is offering the app for $0.99; it can be downloaded here. An iPhone® version will be available soon.
New WeeMee Game
Developed in HTML5, WeeMee Life delivers an engaging game experience that takes advantage of the vibrant graphical environment of the iPad and the signature WeeMee look and feel. WeeWorld partnered with leading cross-platform game developer Moblyng to develop WeeMee Life, which takes users on a role-playing adventure around the globe through crisp graphics and light, engaging fun.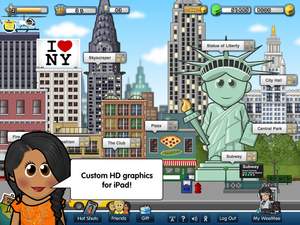 Bringing their friends and family along for the journey, players can do jobs (e.g., guide a mountain bike tour in Hawaii), participate in activities (e.g., explore a glacier in Antarctica), and compete in competitions (e.g., backwards escalator races in New York) to earn virtual currency, social status and premium virtual goods to personalize their WeeMees and advance in the game.
Cross-platform Expansion
WeeWorld's WeeMee Life app continues the social gaming leader's expansion, adding a cross-platform game to its roster of proven avatar-based mobile apps and its foundational online social gaming property, WeeWorld.com. The iPad app is interoperable with the version on Facebook™ and will soon launch on iPhone and Android, giving users a mobile game that they can play at home or on the go. WeeWorld is monetizing WeeMee Life by charging $0.99 to download the app and offering users the option to purchase additional in-game currency through in-app transactions.
"We believe the future of social gaming will involve an increasingly personalized experience that works seamlessly across devices. WeeMee Life brings these two elements together by offering a cross-platform experience through HTML5, combined with our proven WeeMee personalization," said Lauren Bigelow, Chief Operating Officer for WeeWorld. "We look forward to learning from our players and continuing to evolve this game and our approach to providing fun, fresh, social WeeMee experiences on multiple platforms."
About Moblyng
Moblyng is the leading publisher and developer of HTML5 games for mobile devices and social networks. By utilizing HTML5 scripting APIs -- including JavaScript, CSS, canvas and drag-and-drop -- Moblyng creates games that are both fun-to-play and easy-to-port between web-based social networks and smartphone platforms. The company also partners with game developers and media companies to maximize their audience and generate revenue from their popular content. For more information about Moblyng, visit www.moblyng.com.
About WeeWorld
WeeWorld, the social engagement platform for teens and women, runs WeeWorld.com and a range of social games and applications on mobile and Facebook. With more than 45 million created through a variety of social platforms, the WeeMee is the #1 portable avatar.
WeeWorld social games and applications stay true to the iconic WeeMee style and seamlessly integrate top consumer brands and celebrities via virtual goods and other interactive experiences.
Image Available: http://www2.marketwire.com/mw/frame_mw?attachid=1582450

Media Contact:
Erica Camilo
BluePoint Venture Marketing for WeeWorld
(781) 861-7800
Email Contact


Copyright @ Marketwire
Page: 1
Related Keywords:
WeeWorld, Moblyng, iPad, iPhone, app, WeeMee, HTML5, WeeMee Life, virtual goods, mobile, Home, Family, Teens, Family, Communications, Digital Audio, Smart Phone, iPods, iphone, iPad, Applications, Sales & Marketing, Game Development, Marketing/Distribution, Prosumer/Consumer, Gaming, Handheld PC/PDA, Graphics/Design, Graphics, Interactive/Multimedia, Marketwire, Apple Computer, Family, Teens, Other, Women,
---