Webtrends Previews TNS Digital Life Study Insights at Engage 2011
Data Is the "New Black" for Some, "New Oil" for Others
(December 06, 2011)

LONDON -- (Marketwire) -- 12/06/11 -- Webtrends, the global leader in unified mobile, social and web analytics and engagement, previewed exclusive research from the TNS Digital Life study at the Engage 2011 digital marketing conference. The sold out conference was attended by more than 650 digital marketing executives.
The theme of Webtrends' Engage 2011 Conference, "Your Digital Universe," aligned with the insights revealed in the report "The Impact of Digital on Marketing and Business Growth Strategies: A View From the CMO," which was synthesized from a forthcoming wave of the Digital Life study. The size, scale and detail of the Digital Life study make it the most comprehensive study of consumer digital attitudes and behaviour to date.
Webtrends' CMO Hope Frank was interviewed for the study, which features insights from one-to-one interviews with a selection of top CMOs from industry-leading companies in the retail, FMCG, technology and automotive industries and more.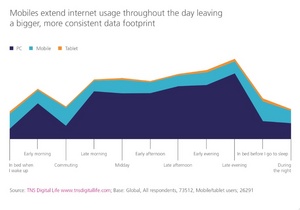 The report examines the challenges and opportunities presented to senior marketers as digital has now become the mainstream mode for engaging with consumers. Some of the report's insights include:
"Digital Is The New Normal": Though it varies from business to business, digital has meant collaboration is increasing between CMOs and other functions within the organization. Closer ties are forming with Corporate Communications, Retail and Shopper Marketing, Innovation and Product Development and CRM and Customer Service functions.
"Data: What Really Matters?": As social and mobile become more deeply woven into consumers' lives they are leaving behind ever more detailed data footprints. Sourcing this data is not the real challenge for the CMO; instead the challenge is identifying which data matters most and how it complements and integrates with existing data.
New Connections Through Analytics: There is a desire to connect currently disparate data streams in a bid to create value that is greater than the sum of the parts. To achieve this, CMOs are investing in analytics expertise, both in-house and partner-led. The enhanced digital consumer footprint is creating a more holistic view of each individual customer -- and with it opportunities to target more precisely tailored, optimized, engaging content.
"MaryLee Sachs and TNS have done a stellar job of capturing what's top of mind for modern CMOs today, and that is undoubtedly digital," explains Webtrends CMO Hope Frank. "Digital marketing and analytics is in our DNA. Understanding how analytics fuels digital marketing success -- and how digital is critical to overall marketing success -- is core in 2012. We're honored to have had the opportunity to participate in this significant research which will support marketers to achieve remarkable digital ROI in 2012."
"The growing range of connected consumer devices and the digital behaviours they create have given rise to an explosion of data marketers can leverage -- presenting them with challenges and opportunities alike," said Simon Falconer, Global Innovation Director - Digital, TNS. He continued, "For the CMOs we engaged for this wave of Digital Life, the new challenge is very much about uncovering the truly actionable insights from this new data. We see this as a big focus area for 2012 and beyond. Webtrends' participation in this project was highly valuable given the role they play in this area of data analytics."
The next wave of TNS's Digital Life, offering qualitative insights based on interviews with global CMOs, will be released early in 2012.
About Webtrends, Inc.
Webtrends is the global leader in unified mobile, social and web analytics and engagement. We help marketers create, measure and improve campaigns for more than 3,500 global brands including: The New York Times, Microsoft, BMW, RIM, China Telecom, China Mobile, CCTV, Tencent QQ, Hitachi, The Associated Press, HSBC, Barclays, Vivo Cellular and Petrobras. Our leadership extends beyond the web analytics industry we founded to the measurement, optimization and integration of all digital content and customer intelligence, including web sites, social media, mobile and paid-search advertising.
Webtrends is a registered trademark of Webtrends Inc. in the United States and other countries. All other trademarks and registered trademarks are the properties of their respective owners.
About TNS
TNS advises clients on specific growth strategies around new market entry, innovation, brand switching and stakeholder management, based on long-established expertise and market-leading solutions. With a presence in over 80 countries, TNS has more conversations with the world's consumers than anyone else and understands individual human behaviours and attitudes across every cultural, economic and political region of the world.
TNS is part of Kantar, one of the world's largest insight, information and consultancy groups. Please visit www.tnsglobal.com for more information.
About Digital Life
Digital Life provides recommendations on how to use digital channels to grow your business through a precise understanding of human behaviours and attitudes online. Based on in-depth interviews with over 72,000 people in 60 countries, Digital Life's size, scale and detail make it the most comprehensive view of consumer attitudes and behaviour online, on a global and local level. A selection of findings from the study can be found at www.tnsdigitallife.com.
Web: www.webtrends.com
Phone: 1-877-932-8736
Twitter: @webtrends
Facebook: www.facebook.com/webtrends
Image Available: http://www2.marketwire.com/mw/frame_mw?attachid=1822835

Add to Digg Bookmark with del.icio.us Add to Newsvine
Media Contact:
Molly Mulloy
Zeno Group
Email: [email protected]
Twitter: @prmolly

Hope Frank
CMO
Webtrends
Email: [email protected]
Twitter: @HopeFrank

Chad Giron
Webtrends
Email: [email protected]
Phone: +1 571-216-4894
Twitter: @chadgiron


Copyright @ Marketwire
Page: 1
Related Keywords:
web analytics, search, Webtrends, Bing, SEO, Sales,Advertising,Marketing,CRM - Customer Relationship Management,Sales & Marketing,Internet,Business Issues,Social Media,Search,Search Engine Optimization,Management,CMO,USA,China,Marketwire, Inc., ,Communications Technology,Internet Technology,Biology,Genetics,Business,china,Other,
---