Webalo Connects iPhones and iPads to the Enterprise
The Webalo Mobile Dashboard (MD2) Expands Apple's Iconic Devices Into Full-Featured Clients With Secure Online/Offline Interaction and Real Time Response, Connecting Mobile Employees to Any Enterprise Data and Functionality in Hours
(April 13, 2010)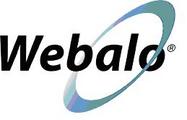 LOS ANGELES, CA -- (Marketwire) -- 04/13/10 -- Smartphones and mobile devices are quickly becoming the hardware of choice among corporate employees, and Webalo makes it easy to connect those devices to the enterprise in a matter of hours, not the usual weeks, months, or years associated with mobile application development.
The iPad and iPhone are the latest devices that can leverage the Webalo Mobile Dashboard's ability to connect any database, report, XML Web service, or website to mobile hardware without the coding, waiting, and cost of traditional development. A simple, step-by-step process lets non-IT staff select the specific data and functionality each user or group requires and connect it to an iPad or iPhone (or BlackBerry, Windows Mobile, Android(1), Palm, Symbian, and Java smartphones) through a single configuration. It's 100 times faster than traditional approaches, and the resulting capabilities provide far more than browser-only access to a limited set of enterprise resources. MD2 leverages the existing UI and menu system of each device, so that it's as easy to access any enterprise data or function as it is to use any consumer "app."
That access is particularly valuable because MD2 makes it easy to integrate resources from any enterprise application, regardless of vendor, and combine them in a set of simple menus. Webalo's CEO Peter Price sees additional advantages. "MD2 doesn't duplicate what's already there. It just connects to it. So you can extend the enterprise to the iPad and iPhone, which users have said they want, and get the benefit of their UI's simplicity and the new multitasking capabilities of iPhone OS 4.0. You will also avoid the time and expense of custom programming, maintenance and updates. If you need to change something in the future, you can do it in minutes."
The Webalo Mobile Dashboard is available as a service, either hosted in the cloud or behind the firewall. It's always available, retains all of the security precautions already in use and, once the enterprise-to-mobile configuration is complete, deploys instantly. For more information, contact Webalo or visit www.webalo.com/pr/ipad.html.
About Webalo
The Webalo Mobile Dashboard changes the economics of enterprise mobility. It provides the enterprise-to-mobile infrastructure that puts enterprise data and functions on smartphones 100 times faster than traditional approaches to mobile application development, and it provides personalized mobile capabilities that meet the individual needs of any end user.
Webalo technology eliminates the need for traditional mobile application development tools and custom programming to provide -- in hours, instead of weeks or months -- mobile access to the specific enterprise data and functions that smartphone users rely on to do their jobs. Rather than build new mobile applications or purchase proprietary mobile versions of a vendor's enterprise applications, organizations can use Webalo's Mobile Dashboard to let administrators easily select, from their existing enterprise applications, the exact data and functions that mobile users need so they can work more efficiently and productively.
The Webalo Mobile Dashboard -- available in hosted and virtual appliance versions -- lets non-IT business administrators easily and rapidly configure the connections between enterprise apps and smartphones and then, in seconds, conforms the settings to the native user interface of BlackBerry, Windows Mobile, Android(1), iPhone/iPad(2), Palm, Symbian, and Java smartphones and Flash-enabled browsers.
Founded in 2000, Los Angeles-based Webalo is privately held. Additional information about Webalo's products, customers, and partners is available at www.webalo.com.
(1) Available April 2010
(2) Available June 2010
-30-
Editors, note: All trademarks and registered trademarks are those of their respective companies.
Add to Digg Bookmark with del.icio.us Add to Newsvine
CONTACT:
Robert Sax
SAX PR/Marketing
818.508.7660
[email protected]


Copyright @ Marketwire
Page: 1
Related Keywords:
webalo,webalo mobile dashboard,md2,ipad,iphone,iphones,enterprise to mobile,OS 4.0,multi-tasking,Internet,Communications,Digital Audio,Web,Smart Phone,PDA,iPods,iphone,iPad,Applications,Security,Applications,Productivity Applications,Security,Database,Internet,Business Issues,Hardware,Software Development,Desktop Operating Systems,Other Applications,Windows,Security,Internet Server Applications,Tools,Prosumer/Consumer,Business,Programming,Handheld PC/PDA,PDA/Smartphone,Authoring/Programming,OS (Operating System),Marketwire,IT (Information Technology),Enterprise Applications,Apple Computer,Internet Technology,Business,Browsers,
---