Webalo Attracts High-Performance Sales Executive
Ronald H. Clifford Joins the Enterprise-to-Mobile Innovator, Attracted by the Firm's Potential to Redefine Corporate Mobile Capabilities
(December 20, 2010)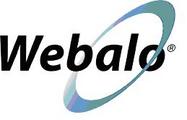 LOS ANGELES, CA -- (Marketwire) -- 12/20/10 -- Ron Clifford has brought his track record of success with large companies to help Webalo provide those firms with an easy, quick, affordable way to connect their smartphone users to the enterprise data and functionality they rely on to do their jobs.
"Webalo's approach is unique and so effective," Clifford says, "that it's impossible not to realize its potential. It's that potential that attracted me to the company, and I'm confident that I can get IT managers to recognize the advantages of an enterprise-to-mobile technology that requires no programming and to adopt it as their primary mobility platform."
Without the need for programming, Webalo lets companies connect their smartphones directly to the specific enterprise resources that each user or group relies on. "If an enterprise environment can provide mobile access in a matter of minutes, they make significant productivity improvements and save a huge amount of money that would otherwise be spent on months of programmers' salaries," Clifford explains.
Trained as an architect, Clifford began selling technology products in the late '90s and has held a succession of increasingly responsible positions in high tech sales. In his most recent position at Kofax, he consistently exceeded his targets and, this year, was directly responsible for nearly $3 million in revenue.
"We're really pleased that we could attract Ron to the company," says Rob Edenzon, Webalo's VP of Sales. "He can provide the kind of clout that will get us into consideration at companies that, because they don't know about Webalo, don't realize how quickly and inexpensively they can reach their mobility goals."
ABOUT WEBALO
Webalo changes the economics of enterprise mobility. It provides the enterprise-to-mobile infrastructure that puts enterprise data and functions on smartphones 100 times faster than traditional approaches to mobile application development, and it provides personalized mobile capabilities that meet the individual needs of any end user.
Webalo technology eliminates the need for traditional mobile application development tools and custom programming to provide -- in hours, instead of weeks or months -- mobile access to the specific enterprise data and functions that smartphone users rely on to do their jobs. Rather than build new mobile applications or purchase proprietary mobile versions of a vendor's enterprise applications, organizations can use Webalo to let administrators easily select, from their existing enterprise applications, the exact data and functions that mobile users need so they can work more efficiently and productively.
Webalo -- available in hosted and virtual appliance versions -- lets non-IT business administrators easily and rapidly configure the connections between smartphones and enterprise apps from vendors such IBM, Oracle, SAP, and Microsoft, as well as from in-house applications. Then, in seconds, Webalo conforms the settings to the native user interface of any Android, BlackBerry, iPhone, Symbian, Windows Mobile, or Java-enabled smartphone.
Founded in 2000, Los Angeles-based Webalo is privately held. Additional information about Webalo's products, customers, and partners is available at www.webalo.com and www.webalo.com/pr/SAPSybase.html.
EDITOR'S NOTE: Photo of Ron Clifford available at www.bit.ly/WebaloPhotos
Editors, note: All trademarks and registered trademarks are those of their respective companies.
Add to Digg Bookmark with del.icio.us Add to Newsvine
CONTACT:
Robert Sax
SAX PR/Marketing
818.508.7660
[email protected]


Copyright @ Marketwire
Page: 1
Related Keywords:
webalo, mobile connectivity platform, enterprise-to-mobile, mobile applications, smartphone, tablet, iPad, Communications, Digital Audio, Smart Phone, PDA, iPods, iphone, iPad, Sales, Applications, Sales & Marketing, Productivity Applications, Business Issues, Software Development, Other Applications, Tools, Sales, Sales, Business, Programming, PDA/Smartphone, Authoring/Programming, Marketwire, IT (Information Technology), Enterprise Applications, Apple Computer, Business,
---