Web Application Testing Made Easy by Reality Box Labs
San Francisco Startup Finds Easier Way to Put Test Machines in the Hands of Web Developers
(August 19, 2008)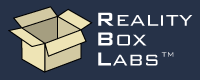 SAN FRANCISCO, CA -- (Marketwire) -- 08/19/08 -- Web and rich internet application developers have found a new way to test their products. Using the newly announced Reality Box service from Reality Box Labs (www.realityboxlabs.com), both types of developers are reducing the time and energy they spend on testing.
The Reality Box service lets developers use their normal desktop browser to access Reality Box test machines running leading browsers and operating systems. Subscribers to the service no longer have to make capital investments in test machines, nor do they have to spend valuable engineering time installing security patches and otherwise keeping their test infrastructure up to date.
"Being able to see your software running on a real client computer that's not your development machine is just so very fundamental to developers," stated Tom Seago, General Manager of Reality Box Labs. Mr. Seago continued, "What developer can get his hands on, or wants to carry, three laptops down to the coffee shop? With Reality Box, as long as your office or your coffee shop has an internet connection, you have access to both Macs and PCs wherever you are, whenever you need them."
In many offices, and even in some homes, developers will often use multiple computers at once. One computer is used as the primary development machine and one or more computers are used as test machines. This configuration is ideal because a development machine often has special libraries and software installed that are not present on a typical end-user's computer.
If a developer does not test her software on a test machine, it might accidentally become dependent on the other software that is installed on her development machine. Similarly, developers of Web 2.0 and rich internet applications need to make sure that their software works on a variety of browsers and operating systems beyond what is installed on their development machines.
One tool developers have used in recent years when faced with the need for test machines is virtualization software such as VMware® Workstation, Microsoft® Virtual PC, or Parallels Desktop®. All of these products can be used to set aside a portion of a development machine's memory and processor capacity for use by a virtual computer. The developer then has to install and configure a new operating system inside this virtual computer in order to turn it into a test machine. The time it takes to acquire and install all this software directly decreases the amount of time the developer spends actually developing, thus increasing the overall software development costs.
While using a local virtual machine has been feasible for developers with large development computers that have resources to spare and for developers experienced enough to install and maintain multiple operating systems at the same time, it has not been suitable for all. Small companies may find it a cost-prohibitive solution once they account for the price of virtualization software combined with the cost of additional operating system licenses plus the time required to install, configure, and maintain the virtual machines.
To address the needs of these companies, Reality Box Labs developed the Reality Box service. By developing custom management software, they centralized the equivalent of many virtual machines in their San Francisco data center. They then added technology that lets their subscribers interact with these machines over the web using the browser software that is already installed on their subscribers' computers.
The resulting solution is particularly well suited to the needs of both resource-constrained companies and individual developers. Subscribers see a lower total cost of ownership for their test infrastructure because of the economies of scale inherent in the approach, and many developers find that the service allows them to gain access to a wider variety of machines than would otherwise be available to them.
Since the Reality Box service is sold on a subscription basis with a minimum subscription of just one day, and since it often can be activated in less than one minute, developers are able to get started with the service for a lower cost and more quickly than a local virtual machine solution. Furthermore, since Reality Box Labs keeps the virtual computers up to date, they save developers the time and effort required to perform on-going maintenance on a local solution. Reality Box Labs also notes that their solution goes beyond other virtualization products in that it integrates both virtual and real hardware into a combined offering.
The Reality Box service is available on the web at www.realityboxlabs.com
About Reality Box Labs
Reality Box Labs LLC is a privately held company headquartered in San Francisco, California. The company was founded in 2008 and provides virtual desktop computers via the web. Independent developers and companies use the Reality Box service to test their latest web and desktop software creations without disturbing their local development machines.
Trademarks
Reality Box Labs(TM) is a trademark of Reality Box Labs LLC. VMware® is a registered trademark of VMware, Inc. Microsoft® is a registered trademark of Microsoft Corporation. Parallels Desktop® is a registered trademark of Parallels Software International, Inc.
Add to Digg Bookmark with del.icio.us Add to Newsvine
Contact
Reality Box Labs
[email protected]
+1.415.373.5255 x204


Copyright @ Marketwire
Page: 1
Related Keywords:
Reality Box Labs, Graphics Designer,Management,Computers/Peripherals,Internet/Web,Computer,Workstation/CPU,Internet,Web,Graphics/Design,Workstation/CPU,OS (Operating System),Mac,OS9,OSX,Marketwire,Internet Technology,Computer Science,Internet,Outdoor Sports,Web 2.0,Browsers,Other,
---