Weather Underground Launches the Ability to Turn Back Time on Its Interactive Weather Map
wunderground.com Users Can Select Past Dates and Times to View Historical Weather Events Through Radar, Photographs and Other Data Overlays
(February 02, 2012)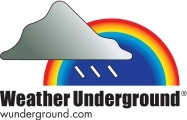 SAN FRANCISCO, CA -- (Marketwire) -- 02/02/12 -- Weather Underground, the world's first online weather service, announced today the availability of a time component to its interactive weather map, WunderMap®, that enables users to go back in time and view weather overlays from historically significant storms such as Hurricane Katrina or last year's Hurricane Irene. The time controls also move the map forward to plot forecasted weather for up to 10 days into the future.
Launched back in 2008, WunderMap® (wunderground.com/wundermap) provides web users with the ability to control a variety of different weather overlays that are plotted on top of an interactive map. As of today, users will see clock icons on the map controls that indicate which layers have the time travel component available.
"WunderMap's new time component is a revolutionary new way to look at historical weather data," said Alan Steremberg, President of Weather Underground. "Weather enthusiasts can now use WunderMap to view the radar and wind speeds at the precise moment a tornado touched down or a hurricane made landfall."
The layers that currently incorporate the time control functionality are Radar, Satellite (forward only), Weather Stations, Photographs, Tornadoes, WebCams, Wild Fire, and Storm Reports. Users can see the available date ranges by hovering over the time control icons on each layer. For example, radar data goes back to 1994 and looks forward 7 days into the future; for the personal weather station layer, users can view conditions back to 2001 or look at forecasts up to 10 days out.
"We expect that WunderMap's time component will appeal to a wide array of users, not just extreme weather enthusiasts," continued Steremberg, "from children and teachers using it as a learning resource, to someone wanting to look back at the weather on their wedding day and even insurance workers needing to look back at the weather for insurance claims."
A video demonstration is available on the wunderground.com Press Blog.
For more information please contact Shannon Magill, Press Manager, shannon@wunderground.com.
About Weather Underground
The world's first online weather service, Weather Underground is committed to delivering the most comprehensive, reliable weather information possible. Home to more than 20 million web users and weather provider to partners such as Google, The Associated Press and CBS, the company's state-of-the-art technology monitors conditions and forecasts for locations across the world. With more than 22,000 users contributing local observations from personal weather stations, Weather Underground is able to provide up-to-the-minute weather conditions for the most finely targeted areas. In addition to serving free online weather information to millions of unique users every month, Weather Underground delivers custom-designed weather page solutions to an array of businesses and media clients -- both online and in print.
For more information please contact:
Shannon Magill
Press Manager
shannon@wunderground.com


Copyright @ Marketwire
Page: 1
Related Keywords:
weather, weather maps, hurricane maps, weather site, local weather, weather data , Marketwire, , Internet Technology, Meteorology, Children, Teachers, Other,
---