WTI Raises the Bar With New Entry Level NPS Series PDU
(May 08, 2012)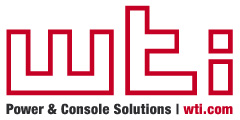 IRVINE, CA -- (Marketwire) -- 05/08/12 -- WTI, an industry leader in the design and manufacture of Console Servers, IP Enabled Smart PDUs and Out-of-Band Management solutions, has announced the launch of a new line of entry level switched PDU products that provide advanced features, capabilities and enterprise quality that in the past have only been available on high end power reboot switches.
"Even in lean economic times, network administrators still need an effective means to control power reboot and switching at remote network facilities," said Joseph Brodski, WTI Sales Manager. "WTI's new NPS Series Basic Power Reboot Switches provide IT professionals with an affordable tool for out-of-band reboot and power control at distant equipment cabinets and offsite data centers, without sacrificing convenient features such as alarm notification capabilities, remote authentication and automatic reboot functions."
NPS Series Basic Power Reboot Switches simplify the process of rebooting remote network elements and controlling power switching functions at distant equipment racks. Even when normal network communication is not an option, tech support personnel can still access the NPS unit via HTTPS, SNMP, external PSTN, Satellite or 3G modem and employ a web based control interface or user-friendly command set to switch power at select outlets On or Off or initiate reboot cycles in order to restore network communication. Surprisingly, in spite of its affordable price the NPS also includes a powerful assortment of alarm functions that can monitor rack temperatures, ping response and other factors to help provide a clearer picture of conditions and events at the remote site.
In order to provide seamless compatibility with power switching software originally written for our IPS Series Power Control products, the NPS features a convenient IPS mode, which essentially mimics the operating characteristics of the IPS. When the IPS mode is enabled, all NPS commands, prompts and logon procedures will function exactly as those found on the IPS.
WTI is a leading designer and manufacturer of remote power control and console management solutions for remote data centers, off-site network equipment installations and other out-of-band management applications. WTI has been manufacturing products in Irvine, CA for over 45 years, and has partner locations in over 20 countries globally.
Contact Information:
WTI
(949) 421-4199


Copyright @ Marketwire
Page: 1
Related Keywords:
switched PDU, remote power reboot, out of band management, event alarm, , Manufacturing, Office Equipment, Sales, Applications, Manufacturing/Production, Manufacturing, Sales & Marketing, Internet, Internet Server Applications, Management, Network Administrators, IT Professionals, Sales, Sales, Marketwire, , Internet Technology, Other,
---