VoxPop Worldwide, Inc. Announces Change of Management Control
(April 13, 2012)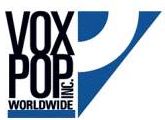 OCALA, FL -- (Marketwire) -- 04/13/12 -- VoxPop Worldwide, Inc. (PINKSHEETS: VOXI), a leader in music aggregation and digital distribution, announces several significant changes to the corporate management team including the resignations of Phil Quartararo, L. Joshua Eikov, Jim O'Mahony and Lawrence Solomon as the Company's Board of Directors and officers. The Company also announces the election of Charles Lance, as the Chief Executive Officer and Director as well as Matthew Nicoletti as President and Director.
Mr. Nicoletti, the new President, has worked with over 40 public companies and has proven to be highly successful in designing and implementing creative marketing campaigns while utilizing strategic partnerships. Mr. Nicoletti's responsibilities will include building market awareness for VoxPop Worldwide and its business model, attracting key employees and building its sales network.
Mr. Lance has over 12 years' experience in running extremely successful companies and will be in charge of running the day to day operations. Mr. Lance is an expert in locating and acquiring revenue generating foreign and domestic private/public companies, which are in the need of a strong management team and capital in order to make it to the next level.
The Company accepted the resignations of Phil Quartararo, L. Joshua Eikov, Jim O'Mahony and Lawrence Solomon on March 16, 2012. Phil Quartararo, L. Joshua Eikov, Jim O'Mahony and Lawrence Solomon resigned to pursue other opportunities and management does not know of any disagreement with Phil Quartararo, L. Joshua Eikov, Jim O'Mahony and Lawrence Solomon on any matter relating to the issuer's operations, policies or practices.
Mr. Lances comments, "I am proud to be serving the future needs of the VoxPop Worldwide business. I particularly look forward to long steady growth."
About VoxPop Worldwide, Inc.
VoxPop Worldwide, Inc. is an Internet and mobile media holding company that has and is seeking to acquire additional full and/or controlling interests in subsidiary companies and associated Internet and mobile properties concentrated on internet broadcasting and on producing and developing content. The spirit of entrepreneurship provides the engine that drives economic growth and innovation, both in good times and bad. VoxPop aims to provide support and service to these innovators through its broad and comprehensive network of Internet media and platforms. For more information, visit www.voxpopworldwide.com.
Safe Harbor Act: This release includes forward-looking statements made pursuant to the safe harbor provisions of the Private Securities Litigation Reform Act of 1995 that involves risks and uncertainties including, but not limited to, the impact of competitive products, the ability to meet customer demand, the ability to manage growth, acquisitions of technology, equipment, or human resources, the effect of economic business conditions, and the ability to attract and retain skilled personnel. The Company is not obligated to revise or update any forward-looking statements in order to reflect events or circumstances that may arise after the date of this release.
Contact:
VoxPop Worldwide, Inc.
[email protected]


Copyright @ Marketwire
Page: 1
Related Keywords:
Investment, Music, Investment Banking, VOXI, VoxPop Worldwide, Inc, Announcement, Change, Management, Broadcast,Management,Digital,Internet/Web,Business,Internet,Marketing,Broadcast Technology,Marketwire, Inc., ,Music,Internet Technology,Business,Internet,Other,
---