Vitrue Launches Twitter Moderation With Klout Functionality
Allows Marketers to Identify, Target Key Influencers; Currently in Beta Phase; Full Client Rollout Planned by End of Year
(November 14, 2011)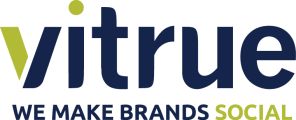 ATLANTA, GA -- (Marketwire) -- 11/14/11 -- Vitrue (www.vitrue.com), the leading social marketing platform, today announced the launch of its Twitter moderation product with Klout functionality incorporated. The new Twittter moderation and Klout capabilities, which went live two weeks ago in a beta phase, provide the ability to monitor, identify and engage with key influencers in Twitter streams. Vitrue will begin the roll out to all clients by the end of the year, first integrating Klout within the new Twitter moderation, and then following shortly with integration into the existing Facebook moderation product.
"As always, our number one goal is to continue to provide our clients with the most robust and innovative social marketing platform available on the market. Twitter moderation with Klout integration allows us to continue to deliver on that promise," said Reggie Bradford, CEO & Founder of Vitrue. "In today's increasingly expanding social space, identifying and engaging with your brand's key influencers is extremely crucial and beneficial. Our clients will now be able to monitor, identify, target and engage social influencers with a high social 'Klout' score, leveraging them for better brand influence and awareness."
The Klout functionality will be incorporated within the Vitrue SRM Platform, beginning with the new Twitter moderation product, which will allow marketers to view their entire Twitter stream in real-time and monitor and respond with numerous capabilities including instant access to a user's complete Klout score and profile. Klout integration for the Vitrue SRM's Facebook moderation is already underway and will follow closely behind with plans for initial rollout by early 2012.
"We are excited to be working with Vitrue on this new functionality, something we believe Vitrue's global brand clients will find extremely insightful and beneficial as they strive to identify those social followers that exert the most influence across their social connections," said Don Hoang, Director of Strategic Business Development at Klout. "We know that consumers trust peers and influencers; Klout's integration with Vitrue will help brands more easily and instantly identify those influencers for social success."
Vitrue has been providing Twitter publishing capabilities since 2009 and currently manages 1,000 Twitter streams for its stable of global brands and agencies.
About Klout
Klout measures influence online. Using its core technology, Klout analyzes social network user data and identifies influential individuals based on the impact of their opinions, links, recommendations and other online content. Klout then provides innovative tools to allow companies, including major brands such as Disney, Audi, Nike and Fox, to interact with and interpret this valuable influencer data. Klout is a privately held company based in San Francisco, California.
About Vitrue
Vitrue (www.vitrue.com) is the leading social marketing platform, offering software-as-a-service (SaaS) solutions to help brands and agencies harness the marketing potential of social and manage their expanding and sophisticated social communities on Facebook, Twitter, YouTube and emerging platforms. The industry-leading Vitrue Social Relationship Management (SRM) platform is collectively managing its clients' more than 925 million social relationships in 47 countries across 4,500 Facebook and Twitter accounts.
Contact Information
Jennifer Gazin
Vitrue [at] launchsquad [dot] com
+1-212-564-3665


Copyright @ Marketwire
Page: 1
Related Keywords:
Vitrue, Marketwire, ,Business,Other,
---