Vitomy Represents Paradigm Shift in Online Video for SMBs
The Web-Based Platform's Drag-and-Drop Video Player Design and Easy to Use Features Give Marketers With Few IT Resources Unprecedented Control Over Video Branding
(November 15, 2011)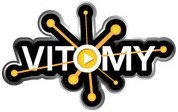 MADISON, WI -- (Marketwire) -- 11/15/11 -- Vitomy (www.vitomy.com) is a new way for small- and medium-sized businesses to get their video on the Internet, allowing even those with limited technical skill and IT resources to easily design, brand, and publish custom video players. It's a platform built to meet unique marketing needs, and does so for less than any other business video platform.
"We researched other video platforms being used by SMBs and saw a pattern: about 80 percent of those platforms' customers were only using about 20 percent of the features," said Al Falaschi, Vitomy's product manager. "Rather than tailor products to SMB's needs, many providers simply stripped their enterprise-level platforms of features until they could justify their prices to a new market."
This is where Vitomy separates itself from the rest of the video branding field. It's not dumbed-down enterprise software; rather, it's a platform that was designed from the ground up to meet the particular marketing needs of small- and medium-sized businesses.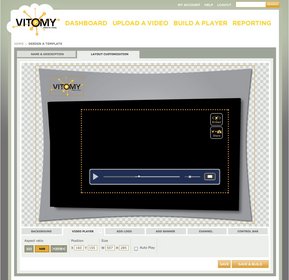 How it works
Vitomy takes a different approach than most online video platforms, offering users more control over player designs, the ability to blend video hosted through the service as well as YouTube, and a lower price point than any of its competitors'. The core design components of the video player are created with the simple upload of image files for player backgrounds, which can also take on different shapes if transparent images are used.
Once an image or custom color has been set as the player background, the user can easily move the video view port and secondary design components (click-able, linkable logos and call-to-action graphics) around the canvas. All of this is accomplished with user-friendly drag-and-drop tools; there is no need for users to write or edit code.
Vitomy also has features that might be called "standard" among business video platforms. These include video upload, automatic encoding into proper web formats, the ability to include custom video playlists in video players, search, preview and management of videos, analytics, and the ability to publish videos to the web.
"This is about more than being able to pick out colors and plug in logos. This is about making sure that potential customers' interaction with your video content is about your brand, and your brand alone. It's about capturing the viewer's attention and taking advantage of it more than is possible with any other platform accessible to SMBs," said Nicolás Jiménez of the Vitomy brand marketing team.
Vitomy also plays well with virtually all web-enabled devices, displaying players and playing video in both Flash and HTML5. No matter where a business' audience is, it can be reached with Vitomy.
Lowest price-point among business video platforms
Vitomy currently offers two subscription tiers:
Free subscriptions include up to 40 GB of bandwidth and storage. Free account users can only share video players using a set of included player design templates. Free accounts also include access to the premium accounts' design features, but do not allow the sharing of those more flexible, user-created design templates.
Premium subscriptions ($59.00/month with no commitment) include up to 200 GB of bandwidth and storage, and allow the users to design their own templates. Users exceeding the 200 GB base pay $15 for every additional 50 GB.
Finally, YouTube Only subscriptions ($9.99/month with no commitment) get users access to everything but video hosting. This means that, for just $9.99, a subscriber's YouTube content can be displayed inside a custom branded video player on any Web page using an HTML embed code.
YouTube integration
Another of Vitomy's unique features is the ability to include YouTube videos within a player and its integrated playlist. Rather than copy or import YouTube videos like many other video platforms do, Vitomy simply plays the video through YouTube's Chromeless Player. This means that Vitomy simply plays YouTube videos within Vitomy's player. The other benefit of handling YouTube videos this way is that it doesn't affect a user's Vitomy storage or bandwidth allowances, leaving those resources free for businesses to use on content they'd rather not share via YouTube.
"There's no question that YouTube is an important resource for any business, but it's not the only place to put your video content, and it doesn't allow you to create an experience that's all about your brand. SMBs can now brand the YouTube video experience and integrate it into broader video content that's exclusive to their Web sites, blogs or mobile campaigns. That is huge," said Jake Athey, Marketing Manager at Widen Enterprises.
Vitomy is a new brand of Widen Enterprises. Widen has decades of expertise in building software that empowers businesses to manage digital assets like images, documents and video, as well as exercise more control over their brands.
"Widen solutions are a marketer's best friends. We're excited about Vitomy, as it puts our asset management and branding control expertise to use for businesses who haven't had these tools at their disposal before. We have a neat way for SMBs to publish their content and put it to work for their bottom lines," says Matthew Gonnering, CEO of Widen Enterprises, Inc.
About Vitomy:
Vitomy is the simplest way to brand and publish your video content. With simple drag-and-drop video player design, you can ensure your branding follows your video content everywhere it is shared. Vitomy is a brand of Widen Enterprises, which is headquartered in Madison, Wisconsin.
About Widen Enterprises:
Widen has used more than 60 years of experience in helping customers build brand equity and consistent cross-channel brand representation to develop an inventive suite of Web-based DAM applications. Widen software services provide marketers with real-time access to asset libraries, reducing the costs of search, file preparation, redundancy, hardware and software.
Image Available: http://www2.marketwire.com/mw/frame_mw?attachid=1798188

Add to Digg Bookmark with del.icio.us Add to Newsvine
Contact:
Nicolas Jimenez
608-443-5407
Email Contact


Copyright @ Marketwire
Page: 1
Related Keywords:
video player, business video, video platform, video branding, business video platform, marketing, Marketwire, Inc., ,Internet Technology,Business,Internet,Other,
---